Wondering what the best side dishes to serve with fish are? I've got you covered with this handy guide. From classic sides like french fries and coleslaw, to healthy sides for fish like sauteed spinach and green beans, this roundup is here to help you find exactly what to pair with your fish dinner.
These dishes pair with all your favorite seafood recipes, from poached fish, to salmon, fish tacos and more!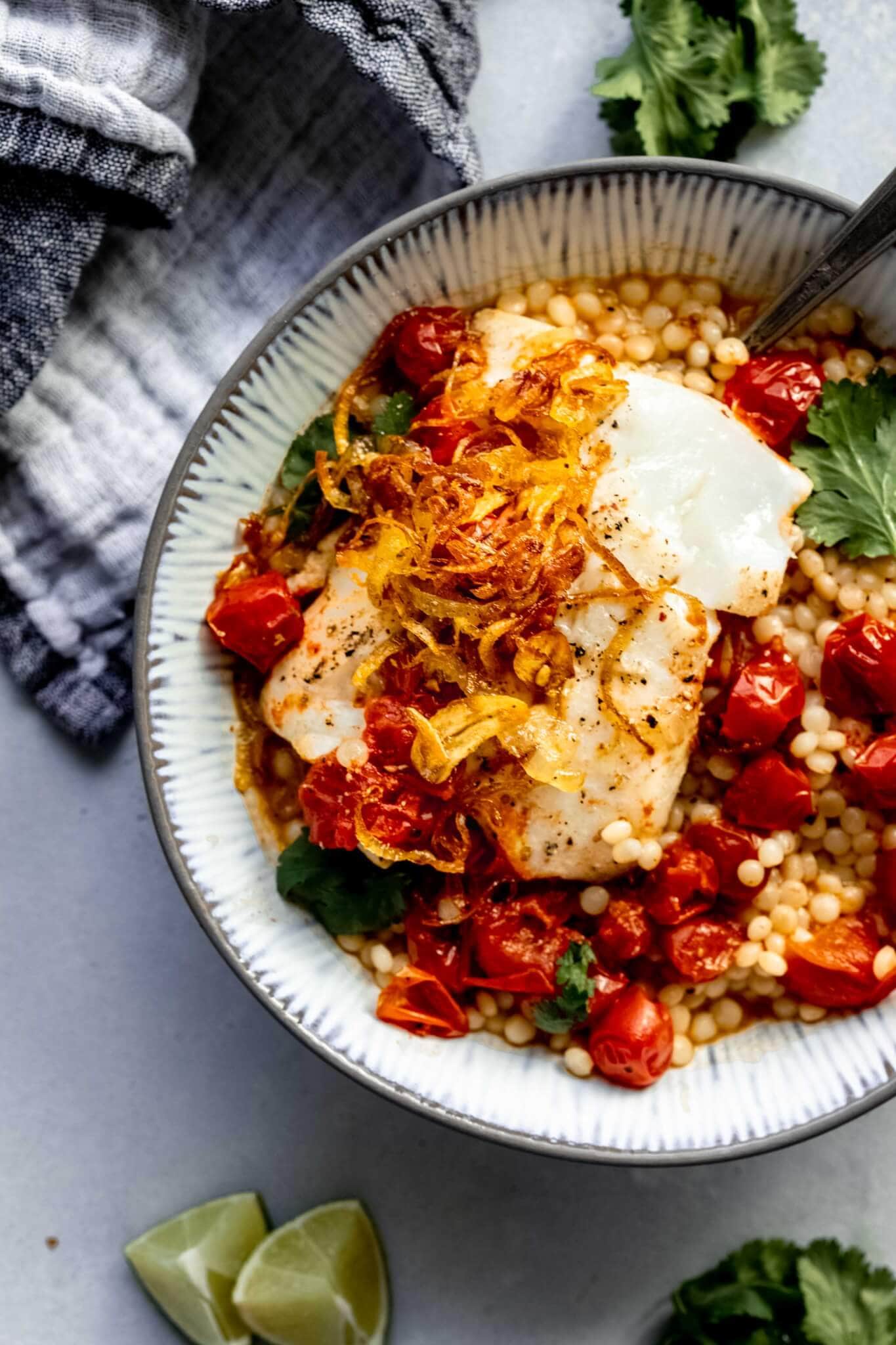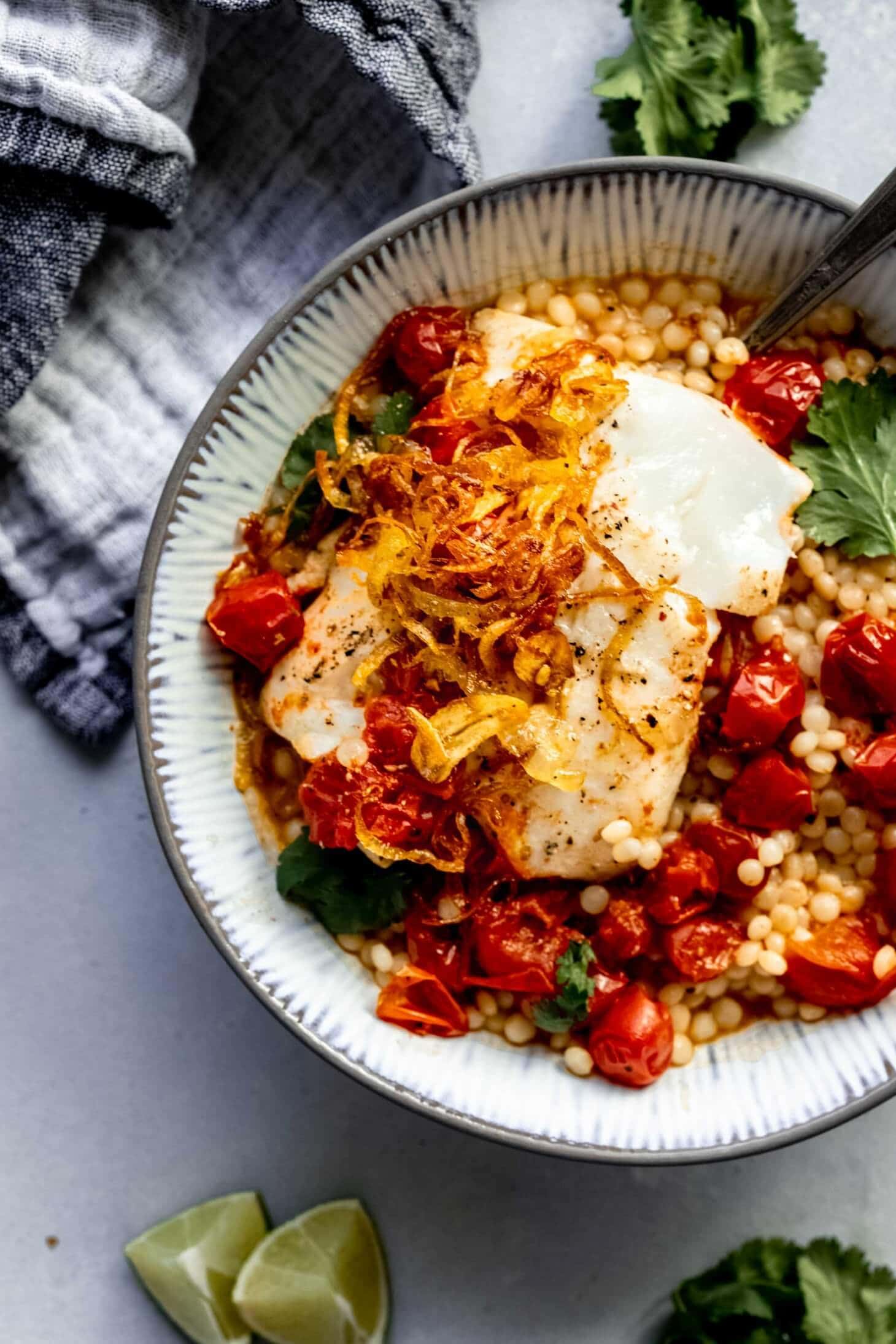 Delicious Side Dishes for Fish
These are some of my favorite tasty side dish recipes to serve with seafood. I'll usually pick one based on the type of fish that I'm preparing:
These simple side dishes, along with one of these yummy sauces for fish, will guarantee an amazing, healthy dinner! Perfect for quick, weeknight cooking, but also amazing served at a dinner party.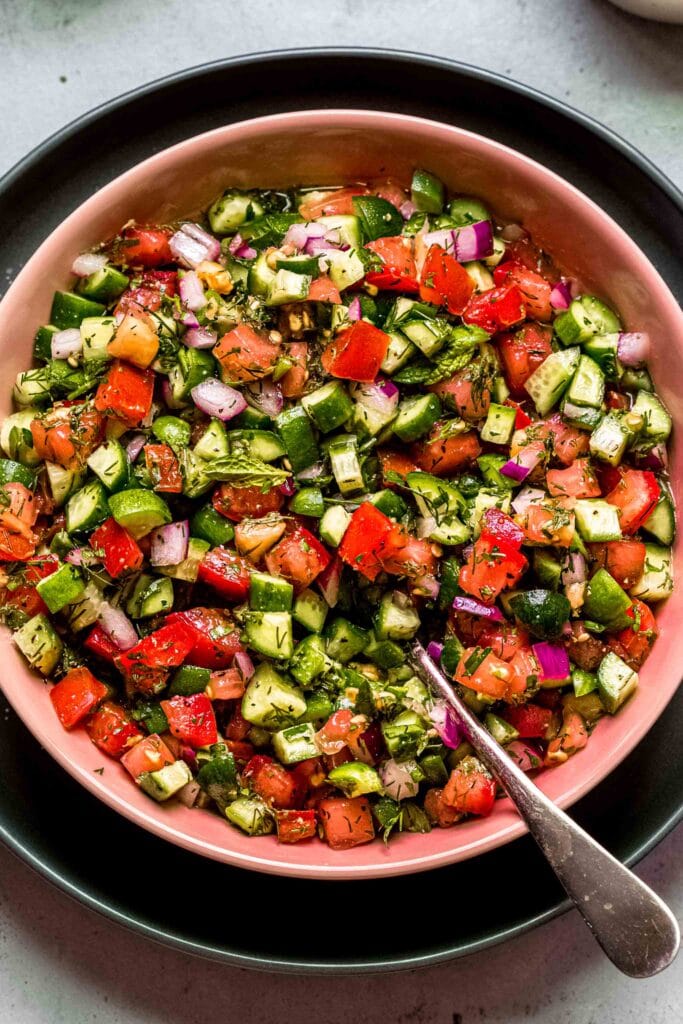 This simple Shirazi Salad recipe features fresh cucumbers, juicy tomatoes, and crisp red onion. Dressed with plenty of fresh herbs and tossed with a tangy dressing made with lime juice and olive oil. Every bite is bursting with refreshing flavors!
Get the RECIPE
Sautéed Sugar Snap Peas is a healthy, quick and delicious side dish to go with any main. Ready in 5 minutes, you'll love the simplicity!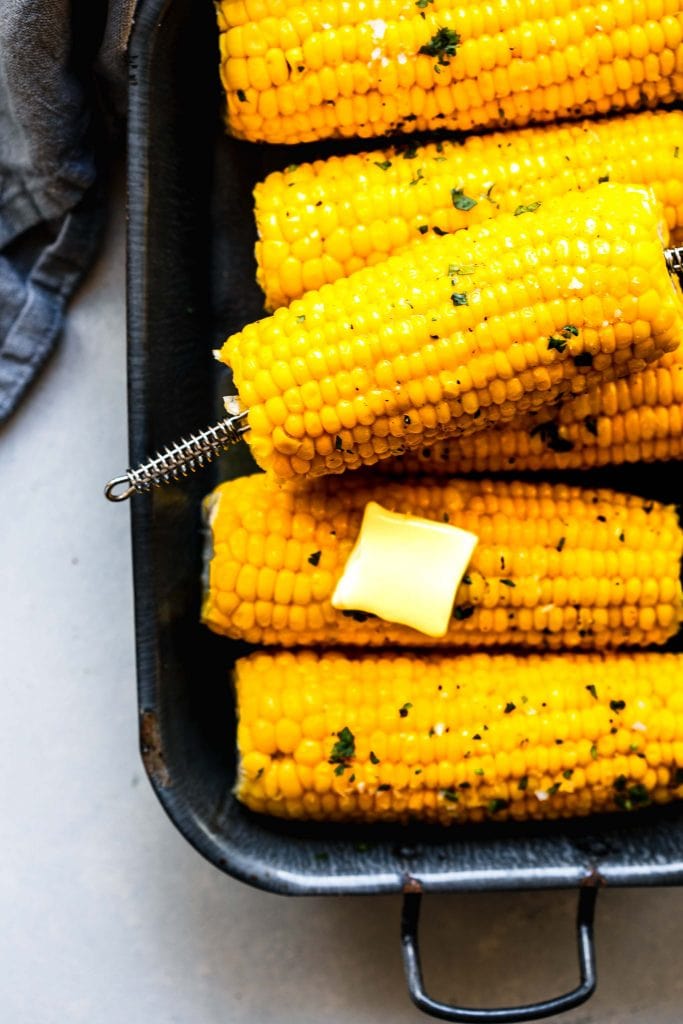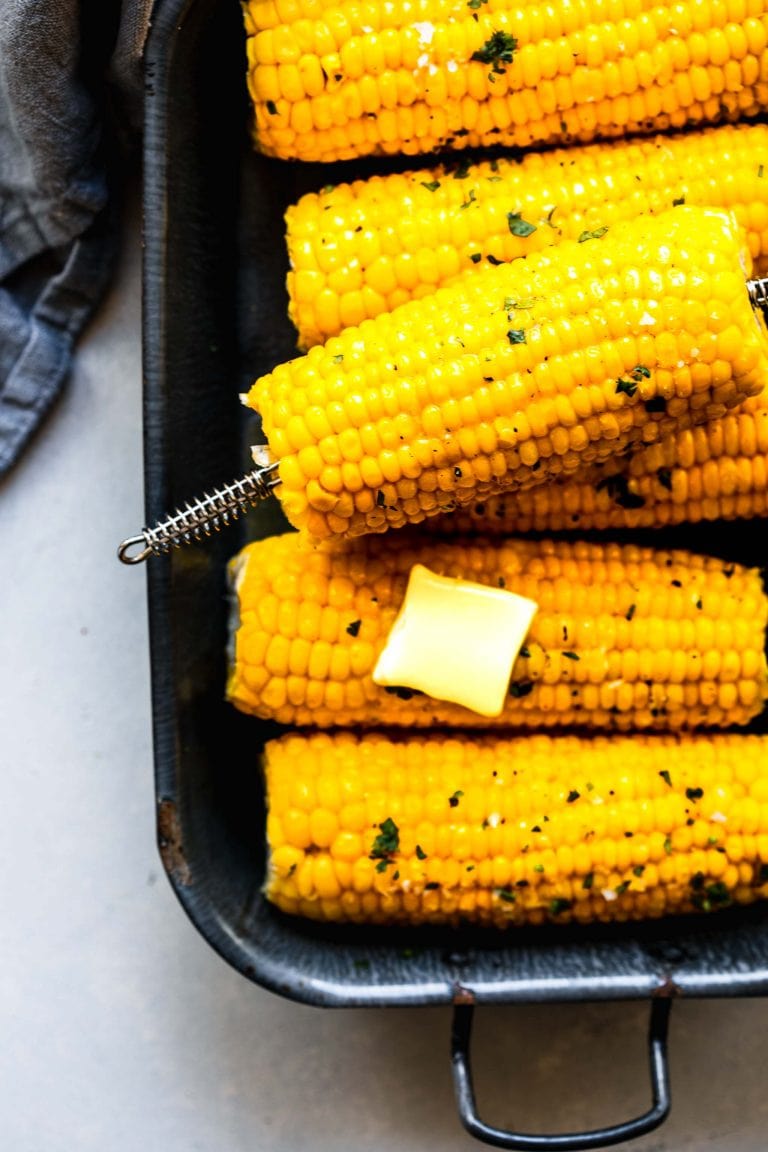 Learn how to make the BEST Instant Pot Corn on the Cob. This fresh corn on the cob recipe uses a simple, secret ingredient to guarantee that your corn is sweet, tender and delicious! 
Get the RECIPE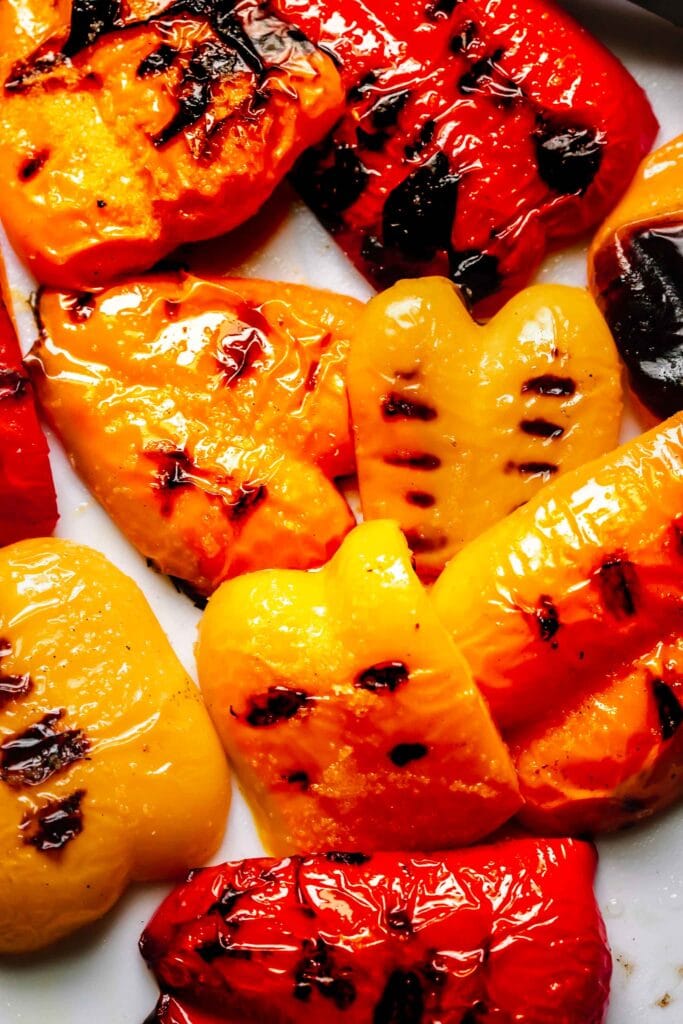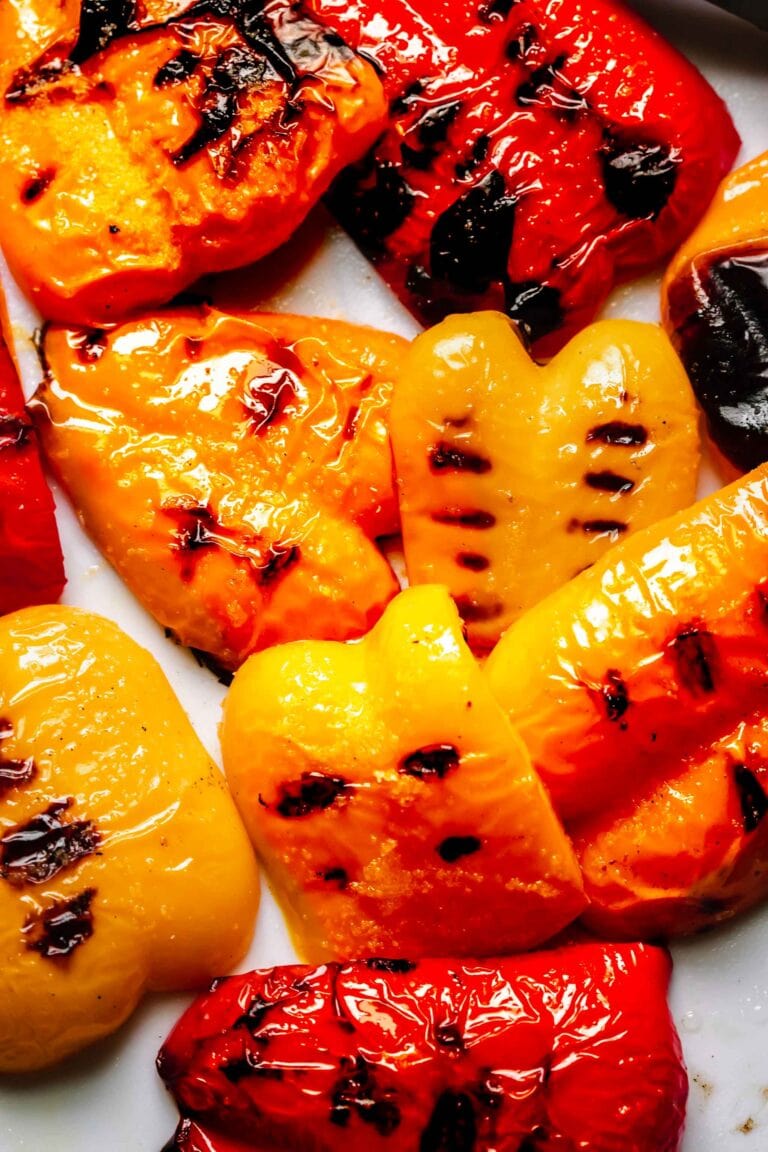 Learn how to make perfectly tender and blistered grilled sweet bell peppers at home!
Get the RECIPE
Crisp, fresh, and bursting with loads of unexpected flavor, this Garlic Bok Choy Recipe is guaranteed to be your new favorite side dish. Ready in just 10 minutes!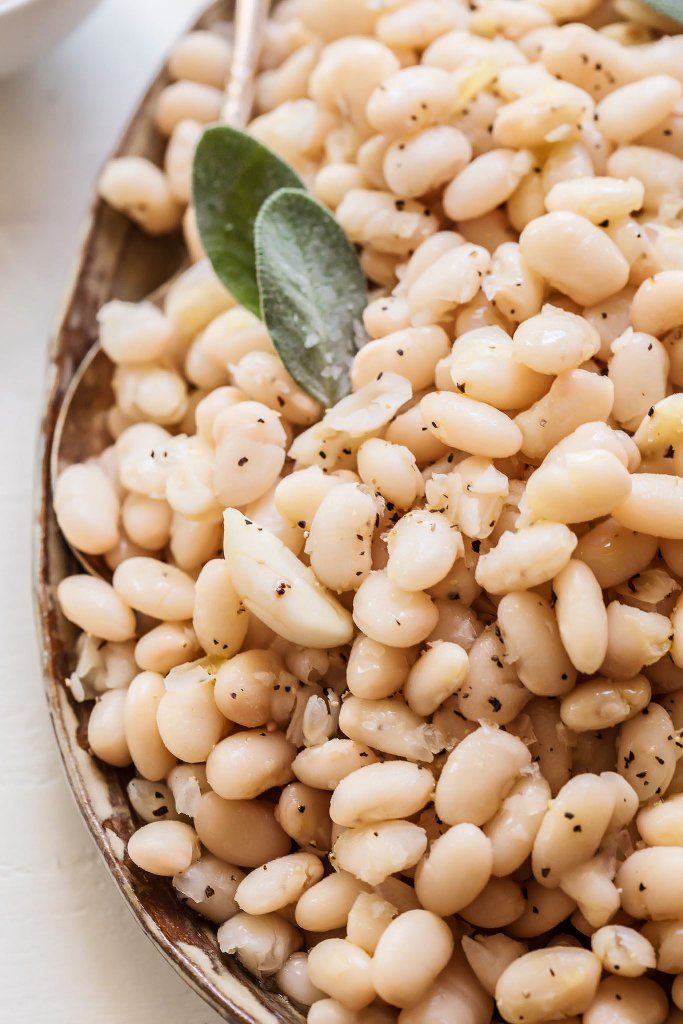 These Italian White Beans are cooked low and slow with a bit of sage and garlic, resulting in plump, yet firm beans that are delicious dressed with a bit of olive oil or served on top of crostini.
Get the RECIPE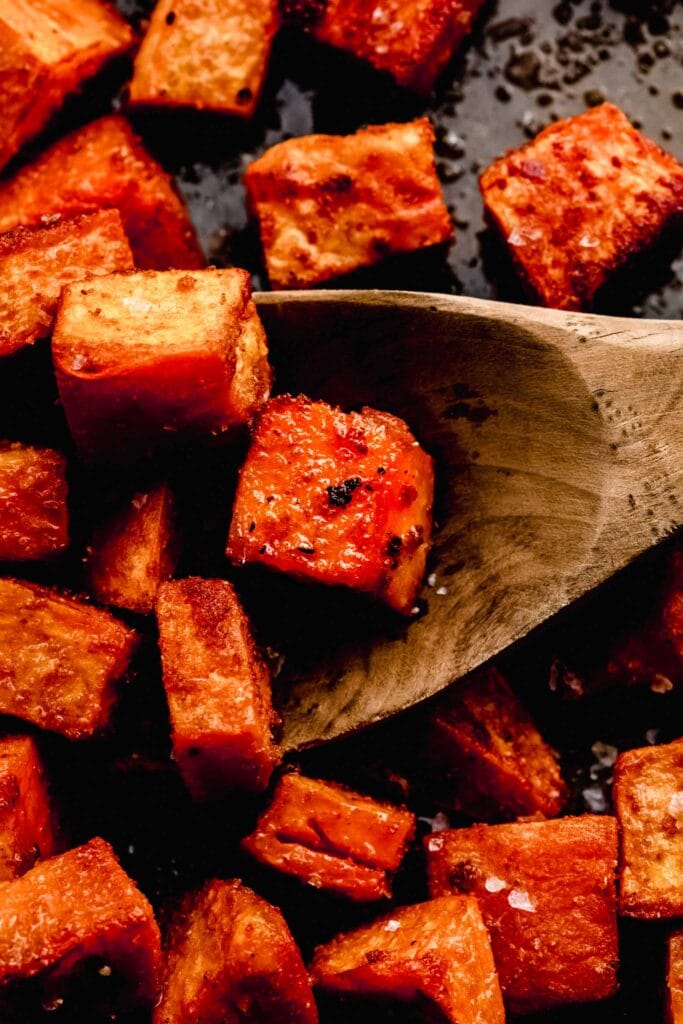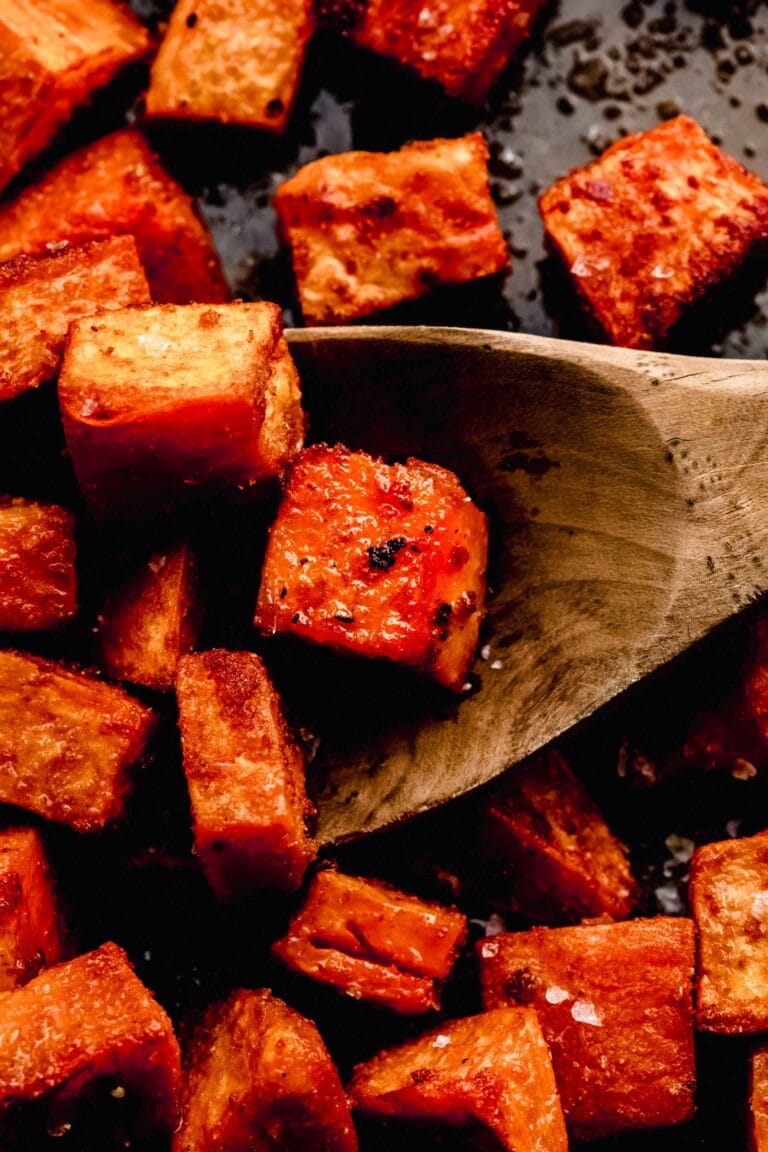 Roasted Sweet Potatoes are a salty, crispy, savory, and slightly sweet side dish you can pair with almost anything! Lightly spiced and so simple, this easy recipe is a total crowd pleaser and a must-have for weeknight dinners.
Get the RECIPE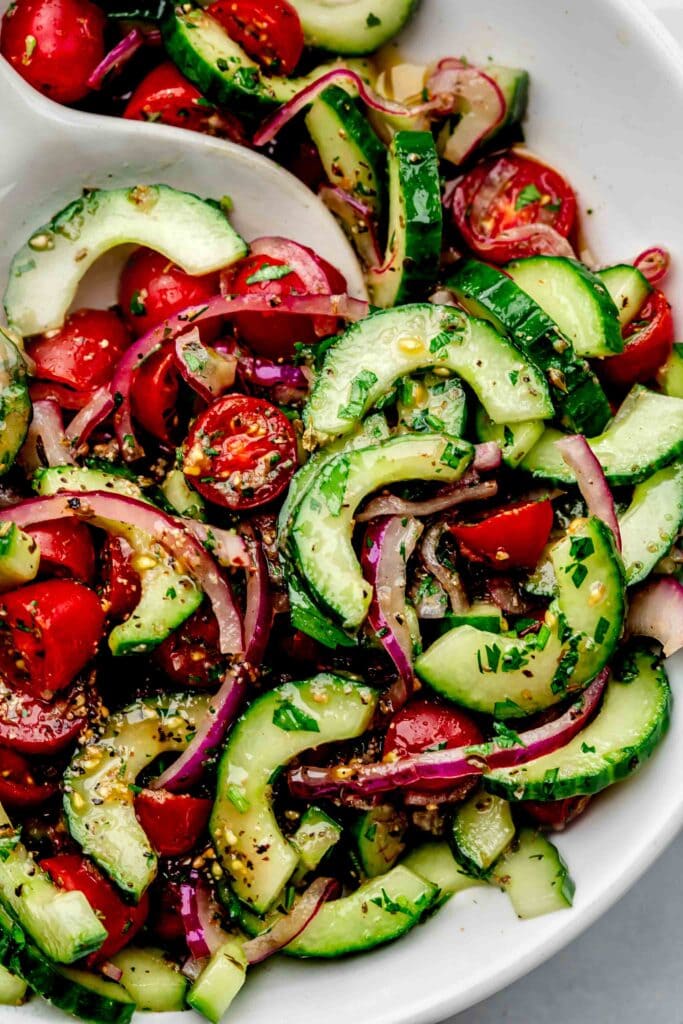 This Tomato Cucumber Salad features fresh cucumbers, juicy tomatoes, and crisp red onion. Dressed in a tangy homemade red wine vinaigrette, every bite is bursting with refreshing Mediterranean flavors!
Get the RECIPE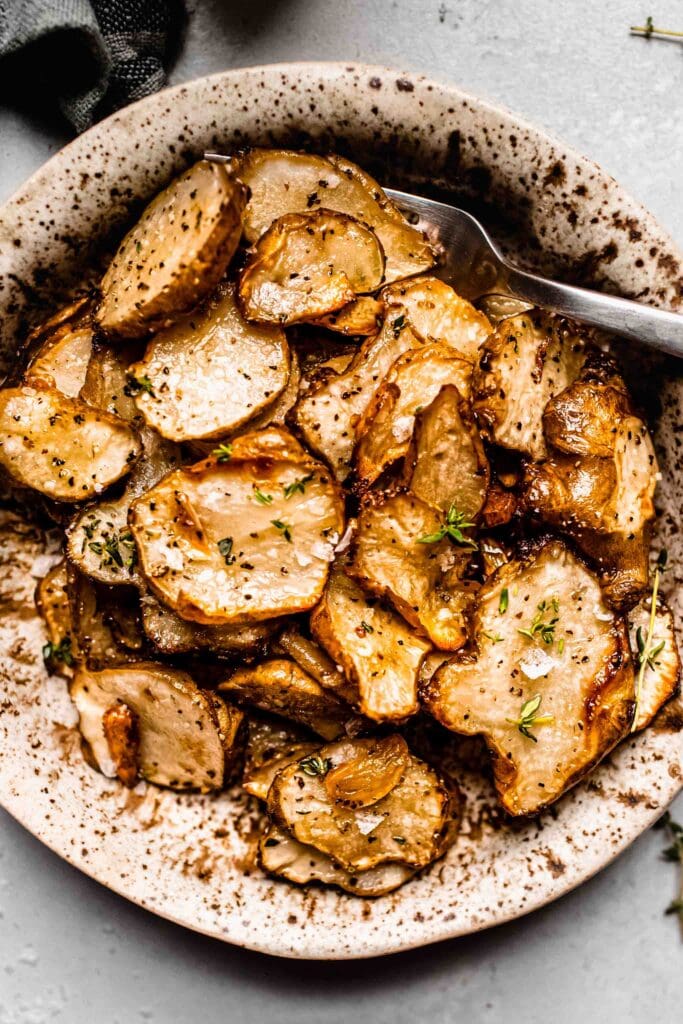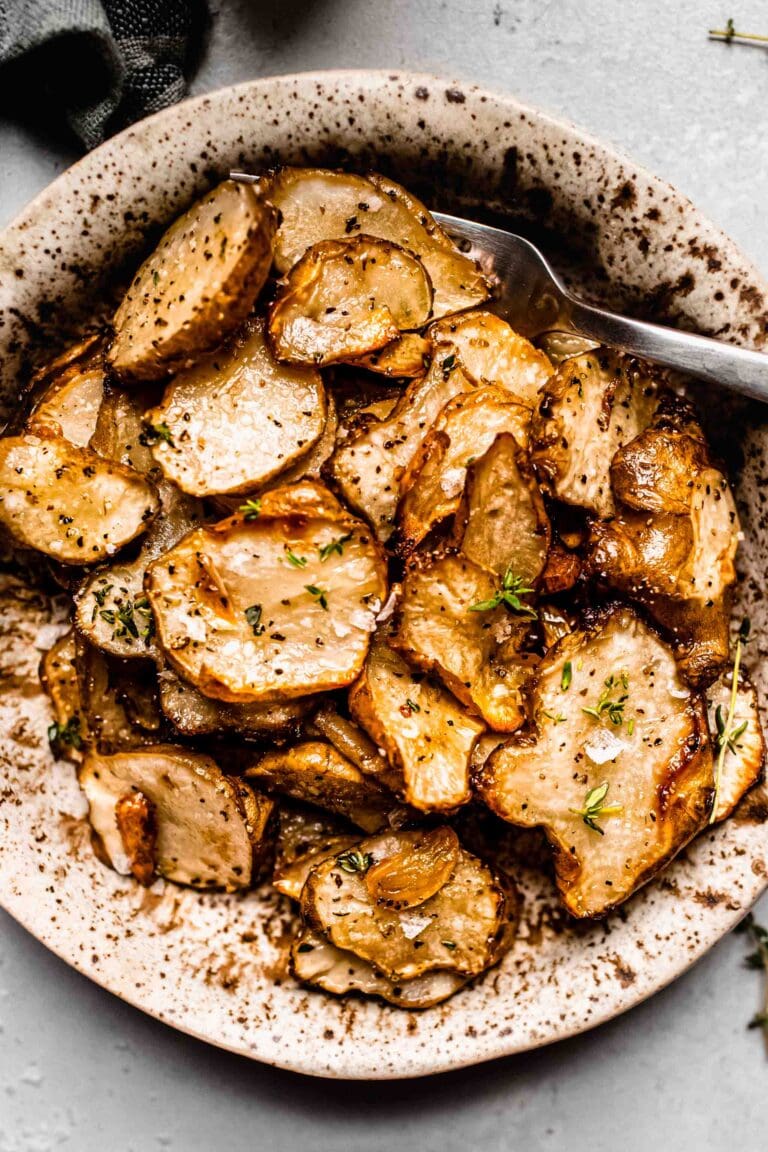 Sunchokes are a knobby root vegetable that can be prepared in more ways than you can imagine! In this recipe, you'll learn how to roast them with olive oil, garlic, and thyme. It's an easy side dish you can pair with anything.
Get the RECIPE
Indulge in this luxurious Lemon Risotto with Mascarpone. Rich, creamy, and tangy – Its bright flavor makes a perfect vegetarian entrée or a delicious side dish.
Get the RECIPE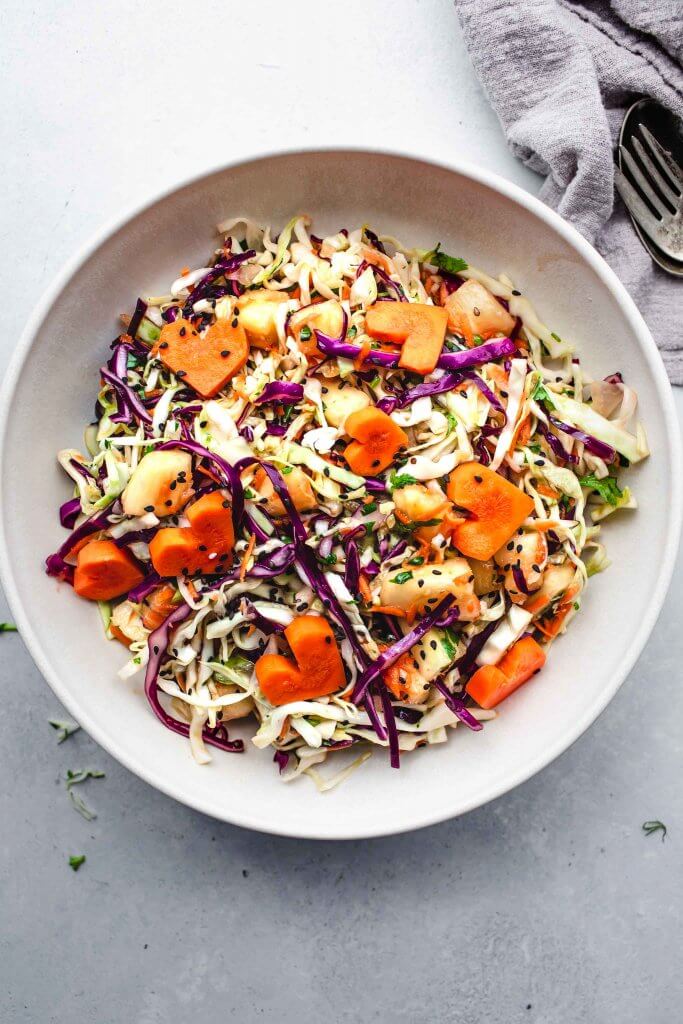 Hawaiian Coleslaw with pineapple, cabbage, carrots, sesame seeds and a ginger-soy lime vinaigrette brings a tropical taste to traditional slaw.
Get the RECIPE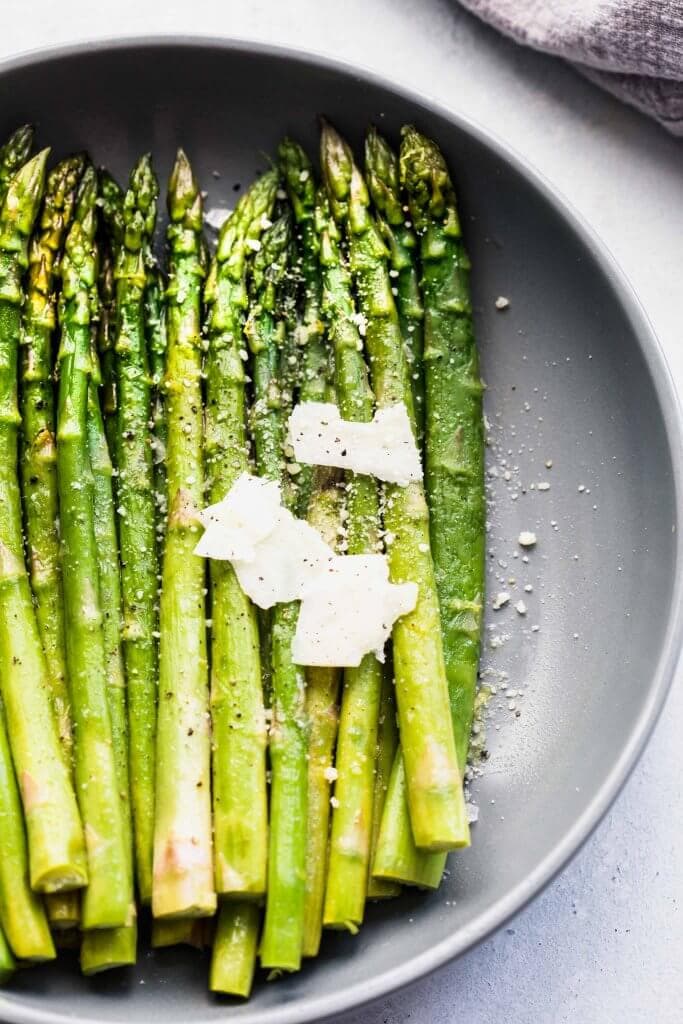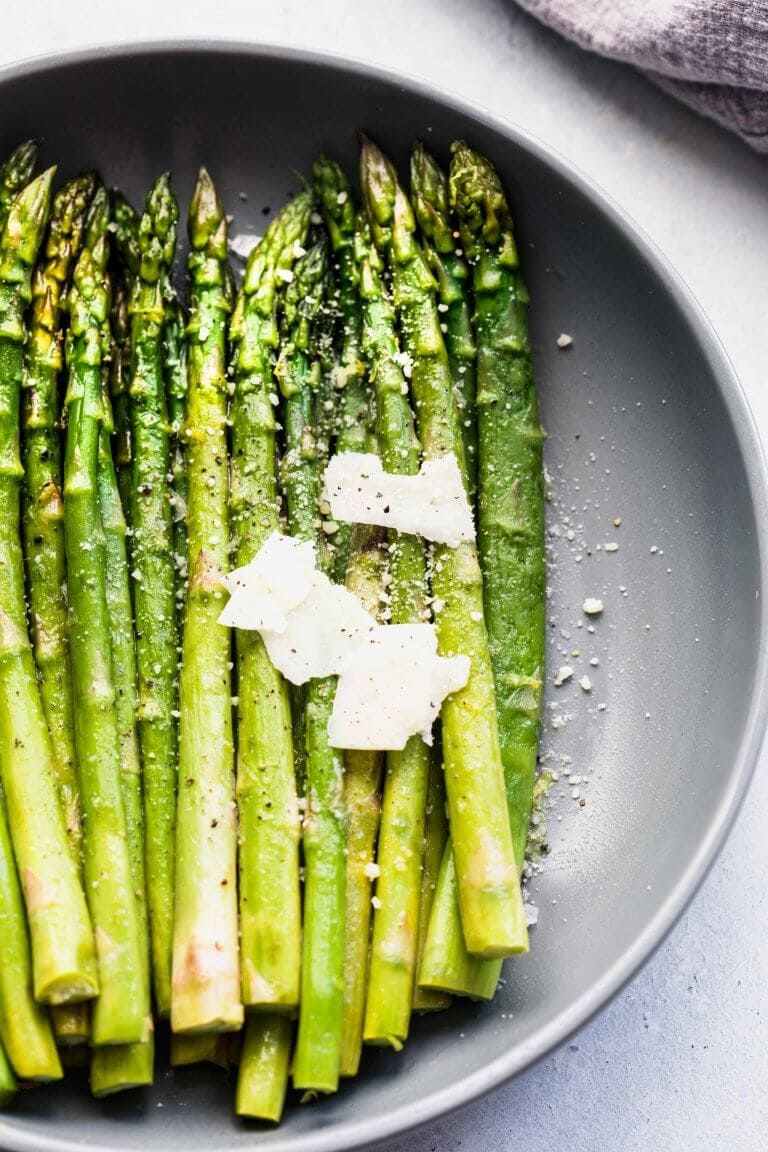 How to cook perfect asparagus sous vide. Bright green, perfectly cooked spears. With three options for flavoring – garlic, parmesan or lemon.
Get the RECIPE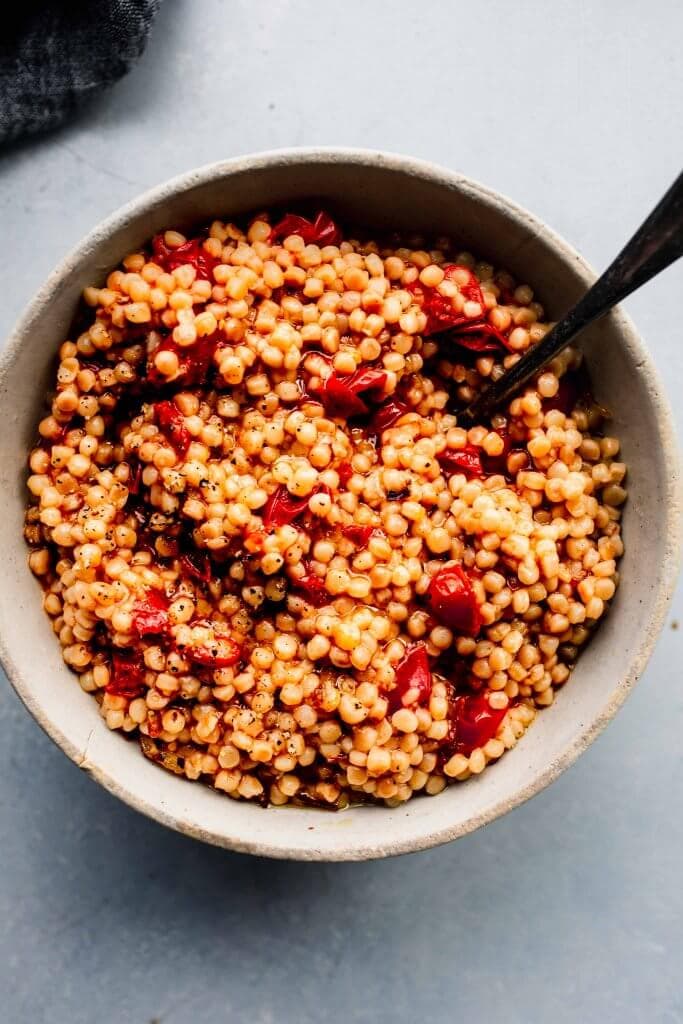 Israeli couscous with tomatoes is an amazing side dish full of flavor. Toasted pearl couscous is tossed with a burst tomato sauce and finished with a squeeze of lime for a delightful tang. Yum!
Get the RECIPE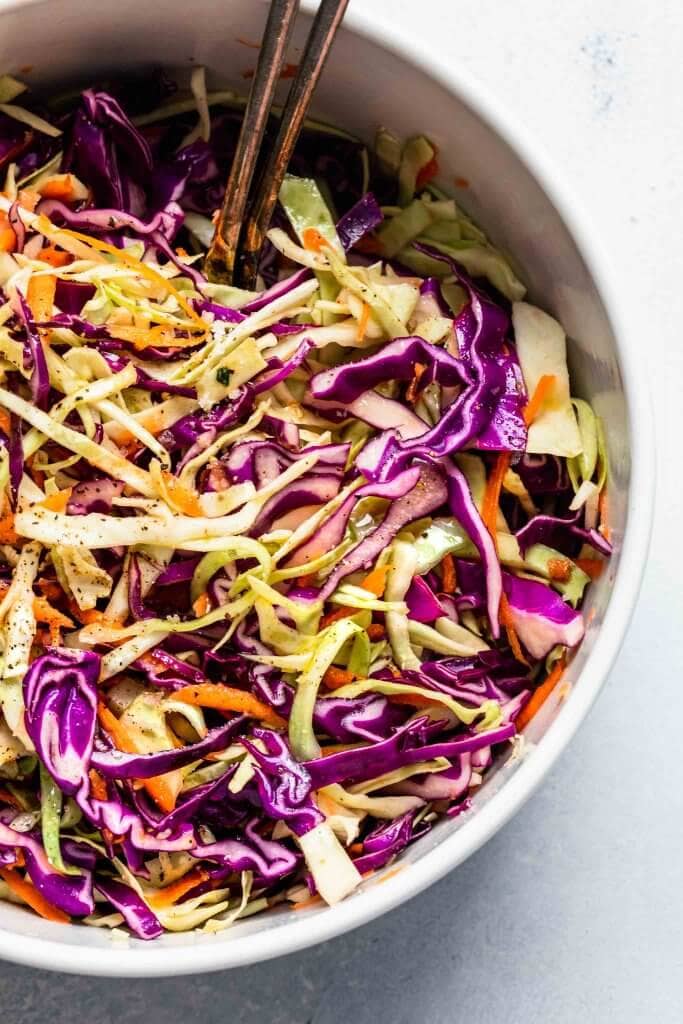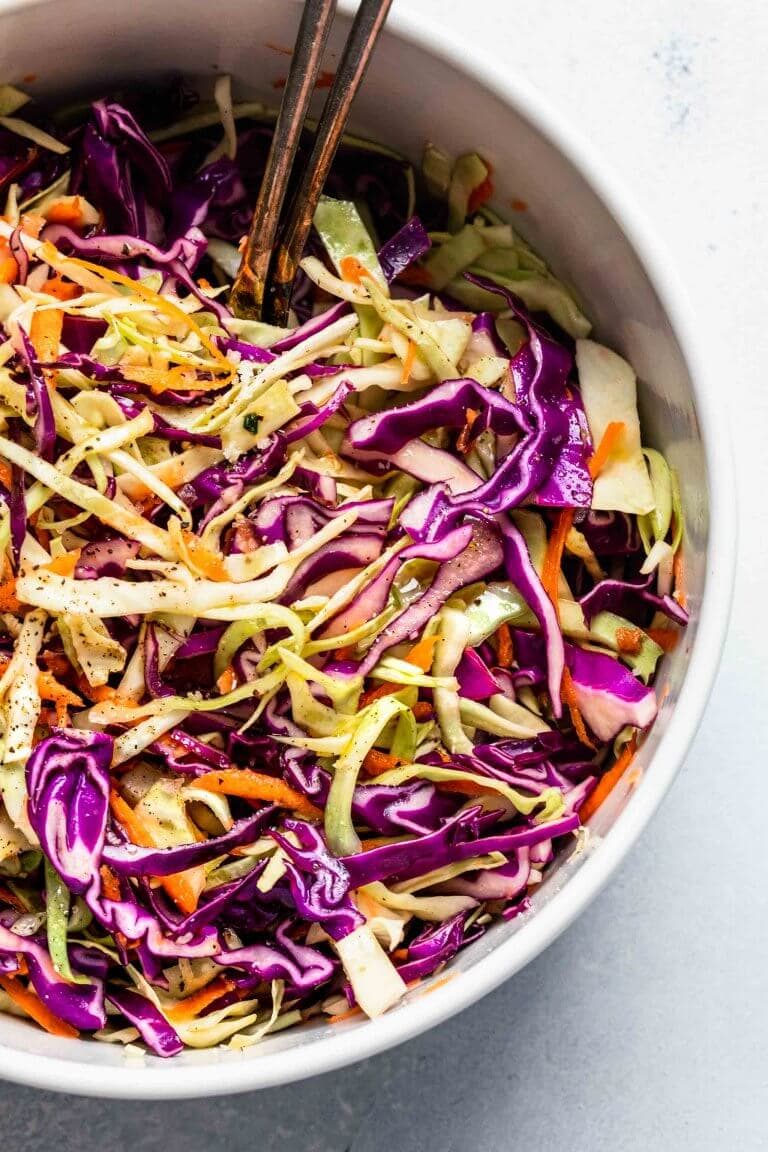 Vinegar Coleslaw is a super simple side dish recipe made without mayonnaise. It's tangy, delicious and crunchy. 
Get the RECIPE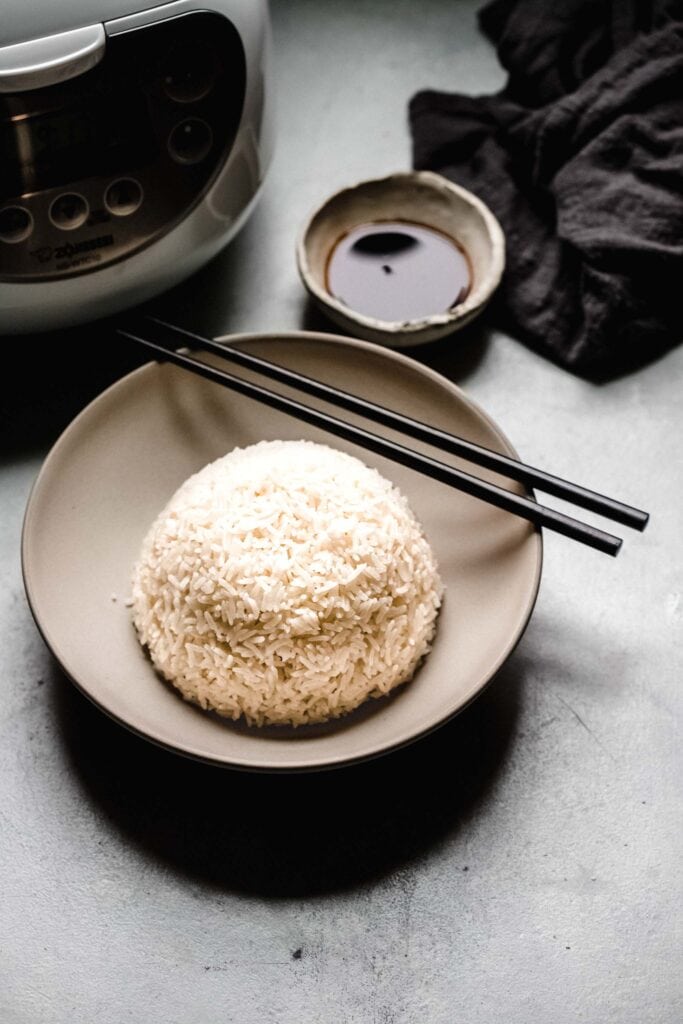 his Rice Cooker Rice is as simple as measuring, pushing a button, and returning to a batch of perfectly cooked rice!
Get the RECIPE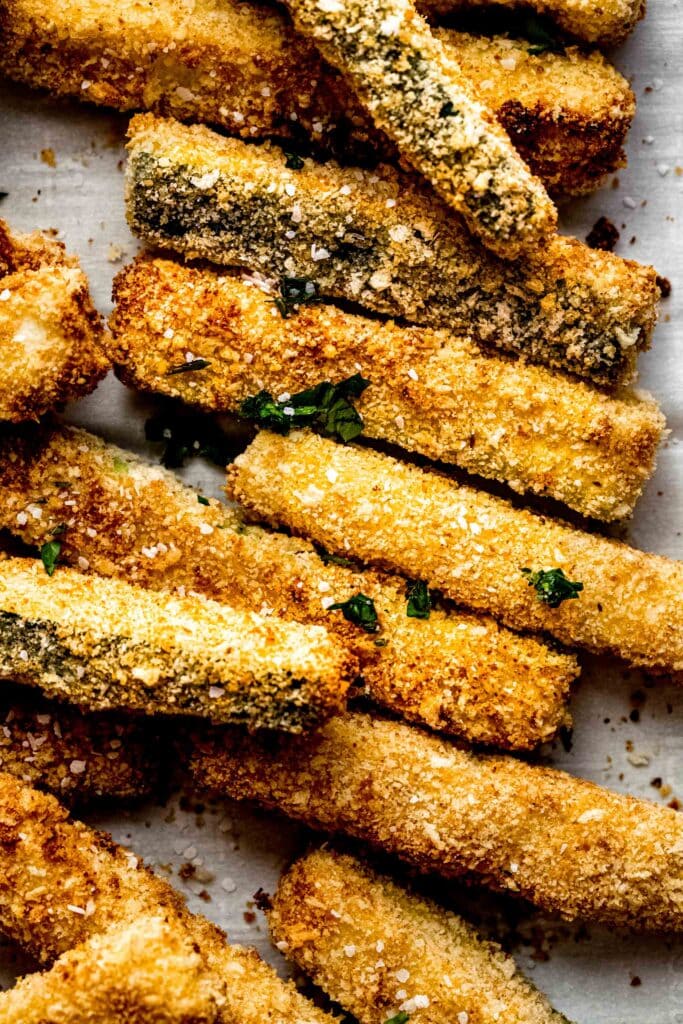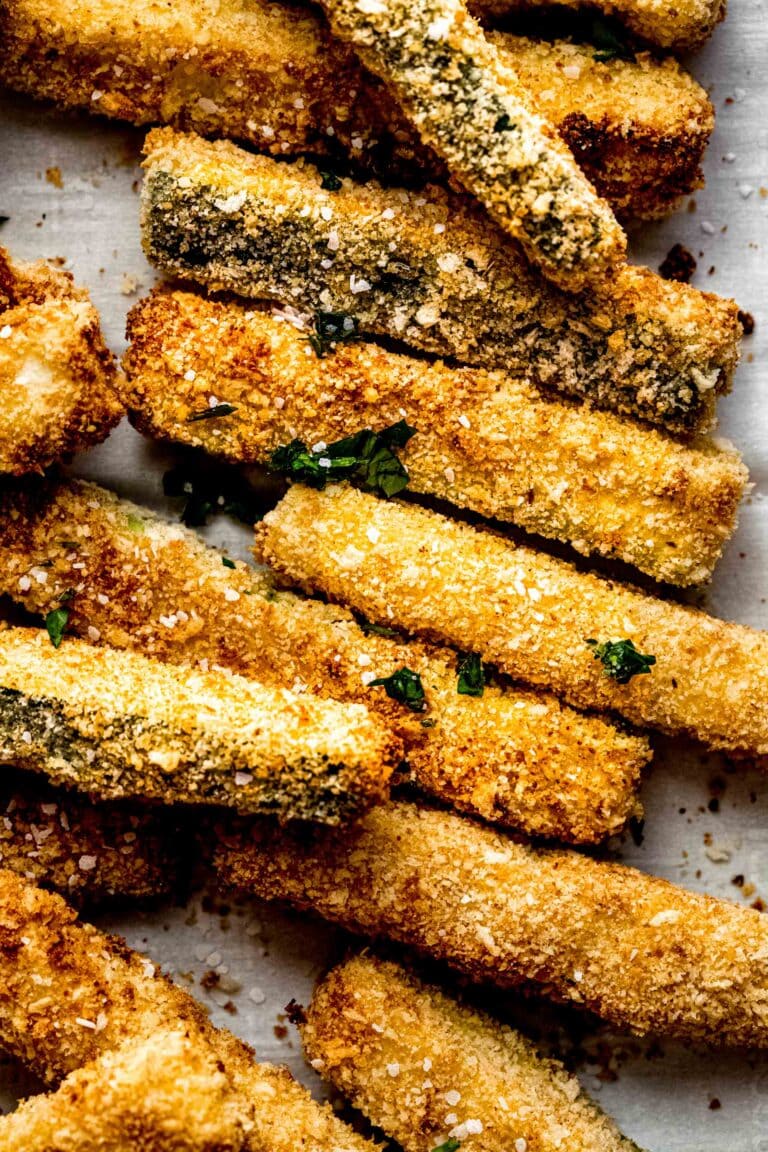 Air Fryer Zucchini Fries with Lemon Tarragon Aioli are perfect for snacking. Strips of zucchini, coated in panko cook up perfectly crispy in the air fryer. Dip them in an easy-to-prepare creamy aioli flavored with tarragon and lemon. 
Get the RECIPE
Roasted Delicata Squash is a winter side dish that's really easy to prepare. There's no peeling required and the maple flavors and warm spices taste divine!
Get the RECIPE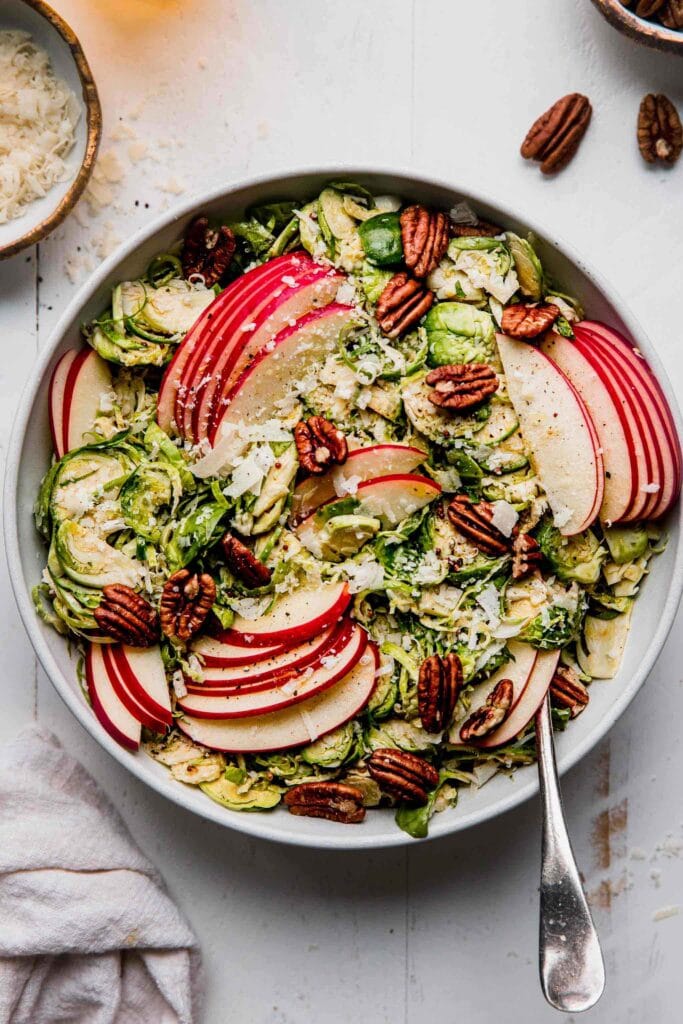 This Shaved Brussel Sprout Salad with Apples & Pecans is tossed in a light maple vinaigrette and makes a delicious, crunchy side dish.
Get the RECIPE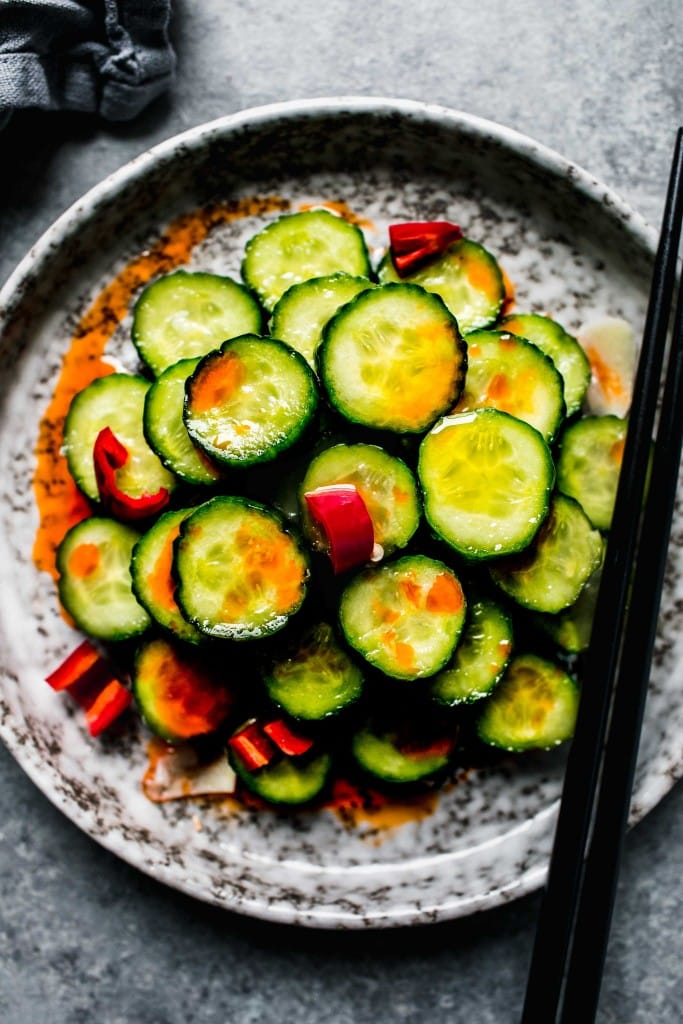 This copycat Din Tai Fung Cucumber Salad is bursting with flavor. Beautifully marinated cucumbers drizzled in chili oil is an outstanding vegetarian appetizer you can enjoy for any special occasion!
Get the RECIPE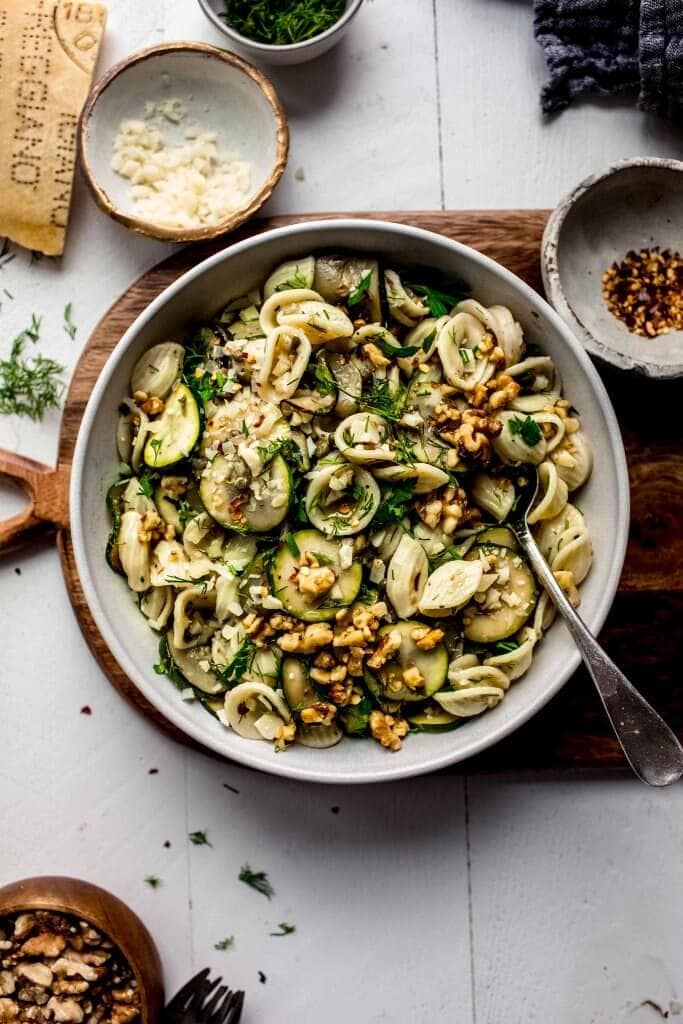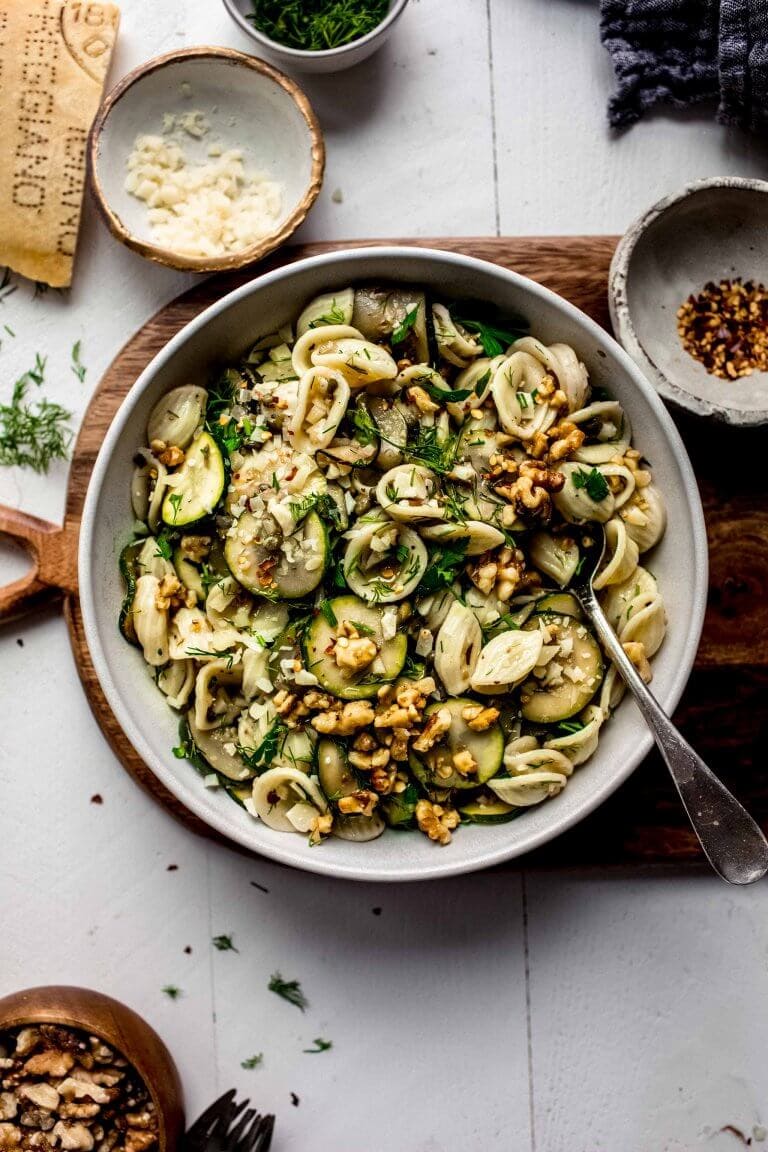 This Zucchini Pasta Salad recipe may be the best I've tried to date! Packed with sauteed zucchini, loads of parmesan cheese, fresh dill and crunchy walnuts.
Get the RECIPE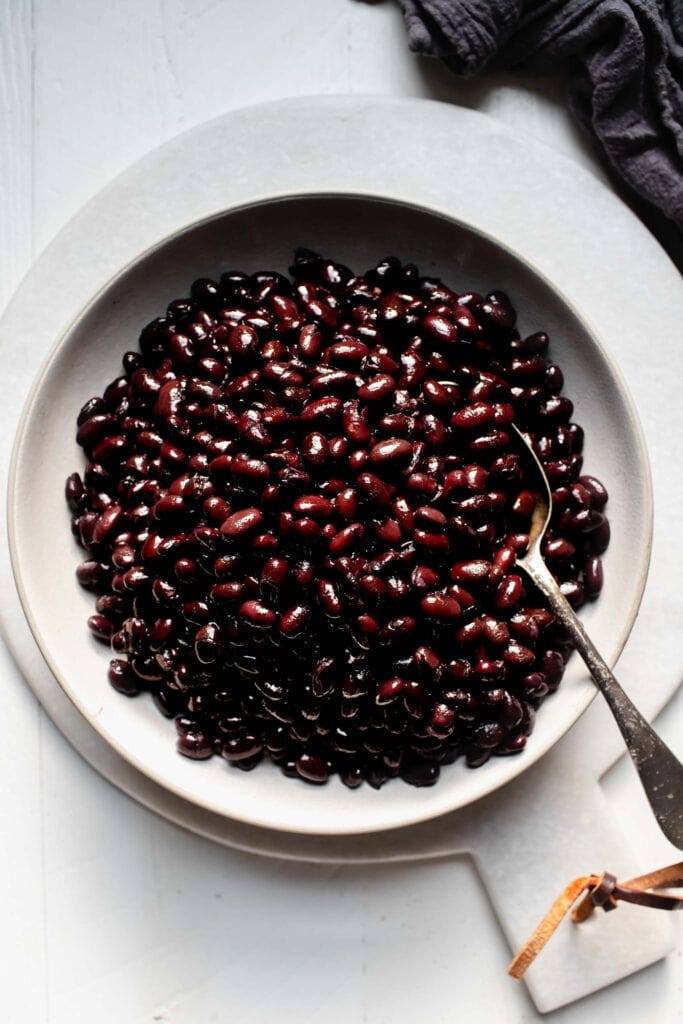 These Slow Cooker Black Beans are easy to make and taste so much better than the canned version! No soaking required. Perfect as a side dish for fish tacos.
Get the RECIPE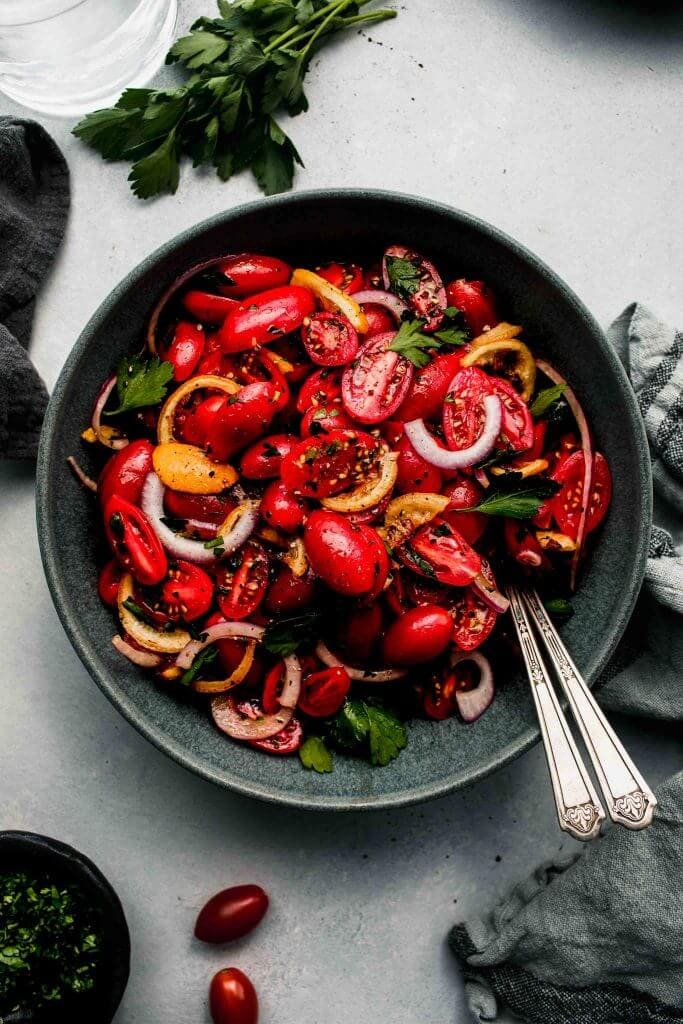 This Cherry Tomato Salad with Roasted Lemons is the perfect side dish. Sweet tomatoes combine with a tangy vinaigrette and delicious roasted lemons. 
Get the RECIPE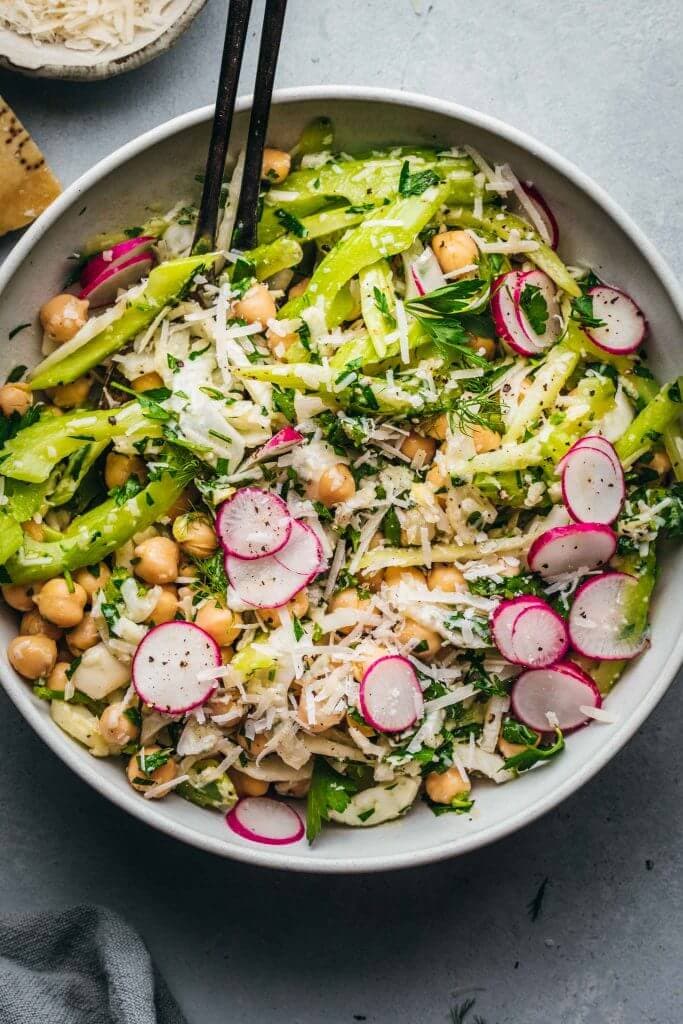 This Fennel and Chickpea Salad is tossed in a light citrus vinaigrette & topped with parmesan. It's the perfect make-ahead salad for potlucks or lunches.
Get the RECIPE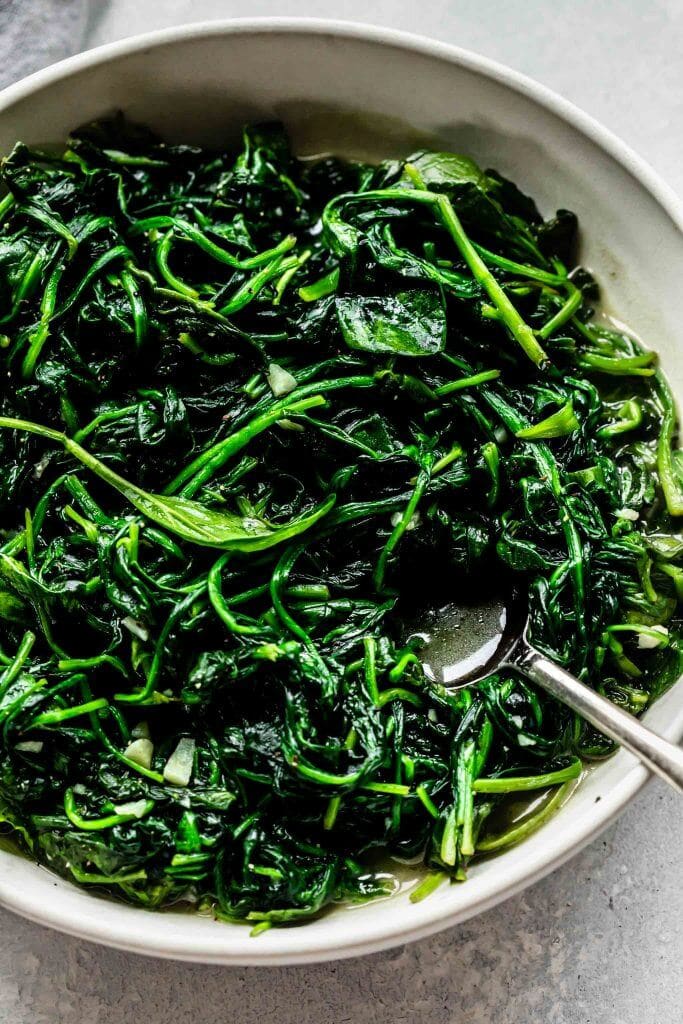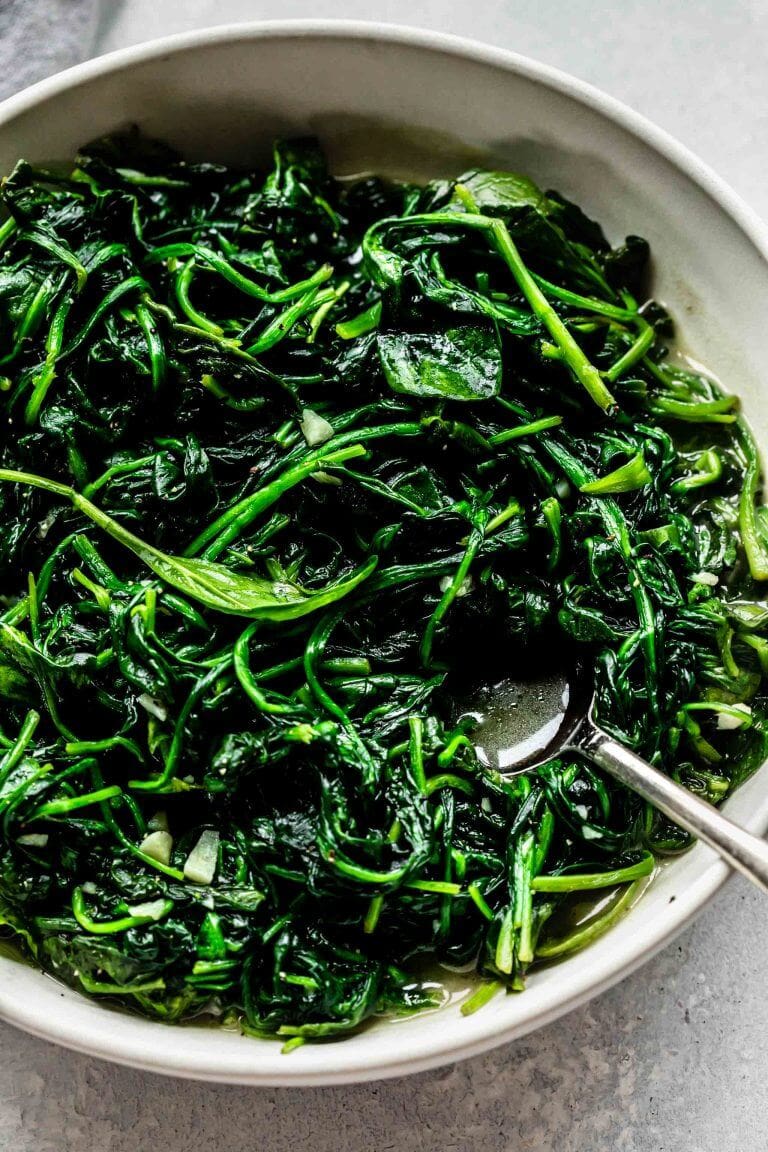 Add a healthy boost of nutrients to your dinner with these leafy greens. Baby spinach is added to a skillet along with garlic and olive oil, then sauteed gently to create a simple side dish that pairs with any meal!
Get the RECIPE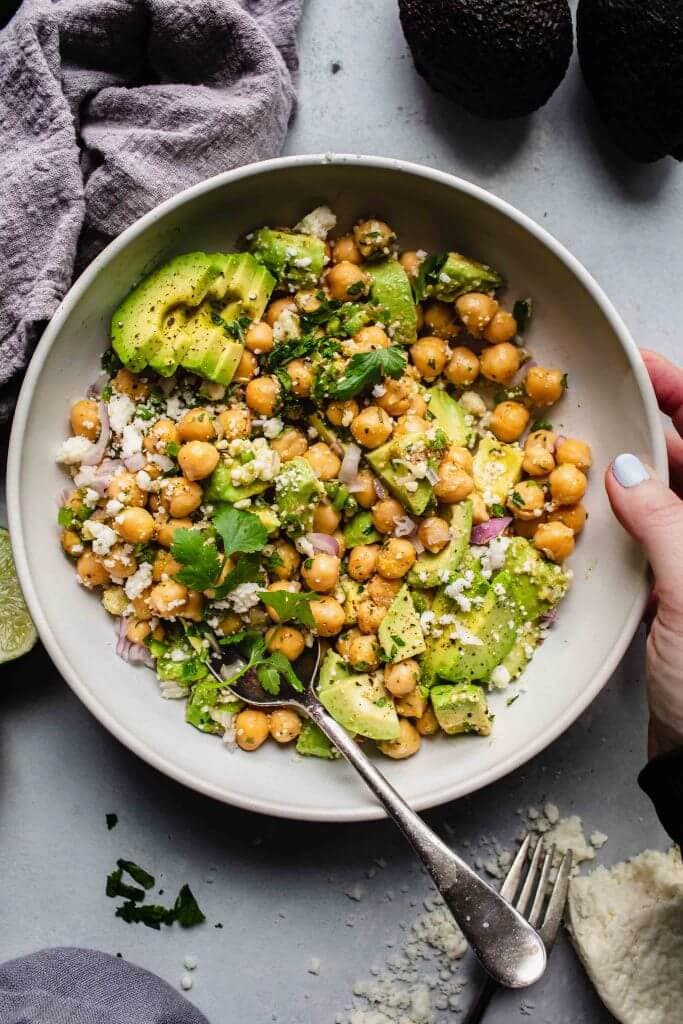 This Avocado Chickpea Salad has all the traditional elements of a great guacamole and makes a healthy, protein and fiber-filled dish that's perfect for lunch or dinner. Plus, it comes together easily in just 10 minutes!
Get the RECIPE
I'm serving up these Oven Roasted Carrots elote style. Similar to how you'd dress grilled street corn, these delicious tender carrots are topped with lime, crumbled cheese, jalapenos and cilantro. So crazy good! 
Get the RECIPE
With these easy tips, you'll see it's simple to cook perfect quinoa in the Instant Pot with minimal measuring. The result is fluffy and flavorful quinoa that's super simple to prepare.
Get the RECIPE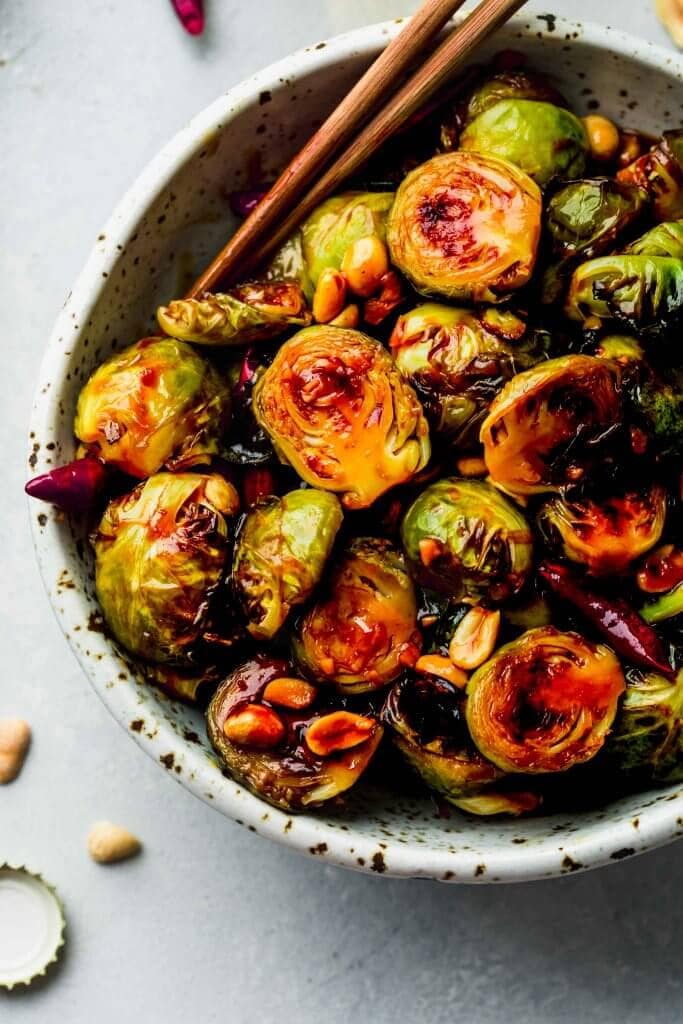 Kung Pao Brussels Sprouts are crispy on the outside, tender on the inside, and covered in a sweet and spicy kung pao sauce. Toss with roasted peanuts and red chilis for a crazy delicious spin on a classic roasted vegetable.
Get the RECIPE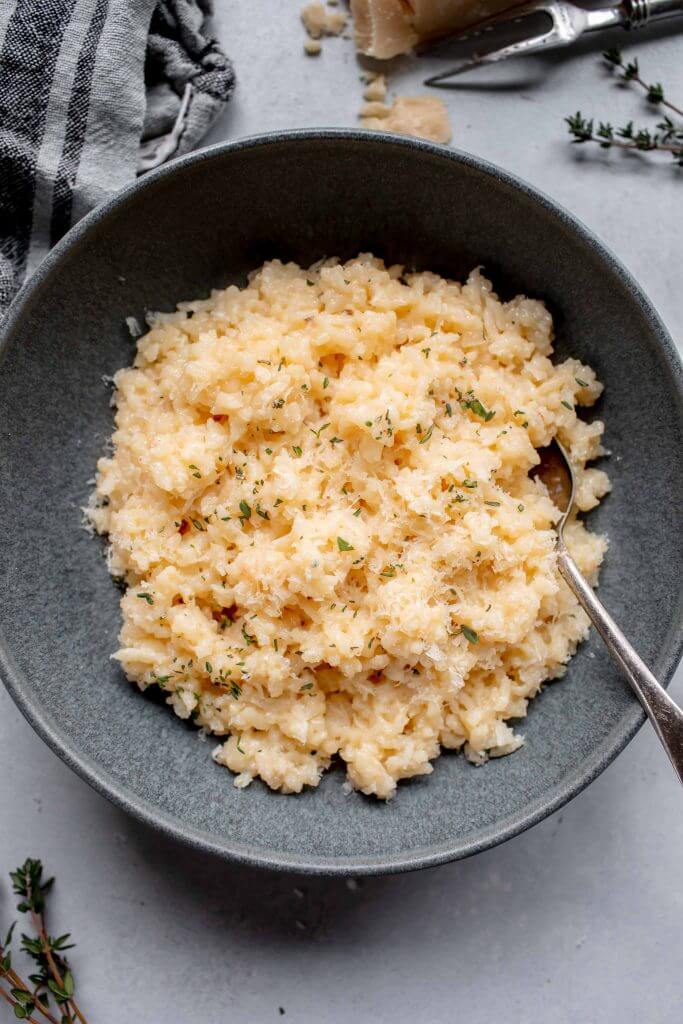 Instant Pot Risotto is hands-down the best way to make risotto! It has the signature creamy, rich goodness you expect without all the stirring and fuss of making it on the stove. Plus there are 6 add-in options to make your risotto extra flavorful.
Get the RECIPE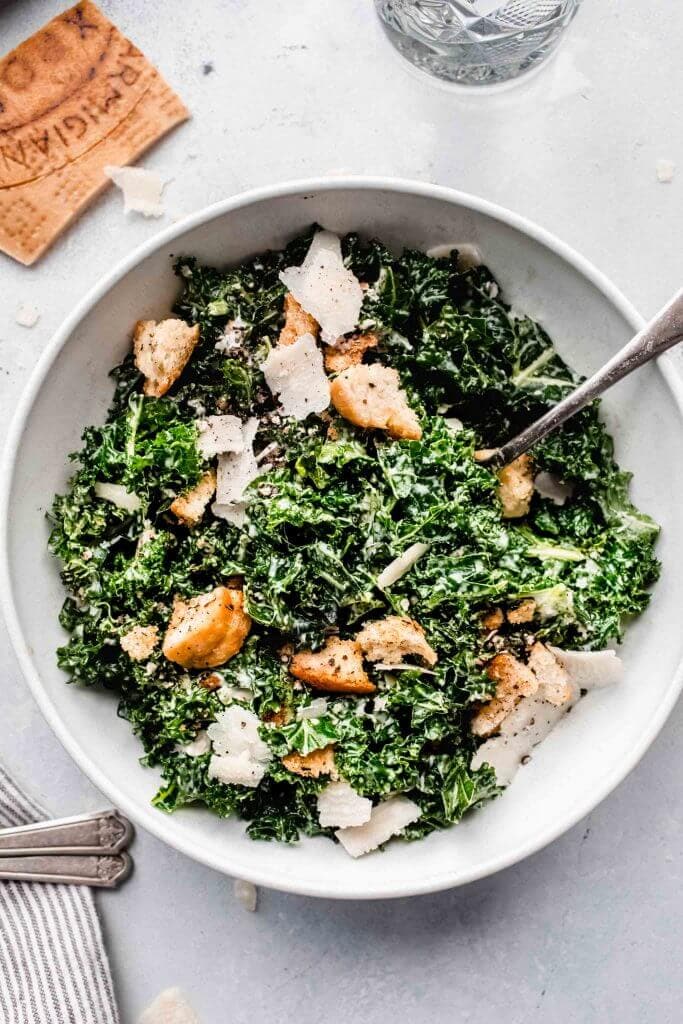 This Kale Caesar Salad is topped with crispy homemade croutons and parmesan cheese. Massaging the creamy garlic dressing into the kale makes it extra tender and delicious.
Get the RECIPE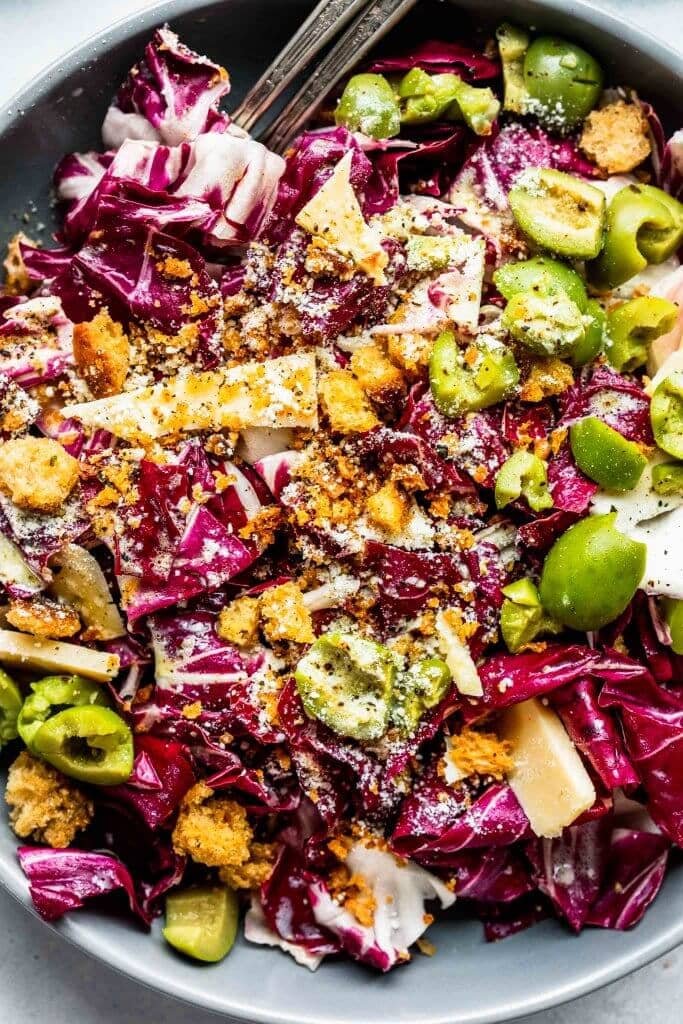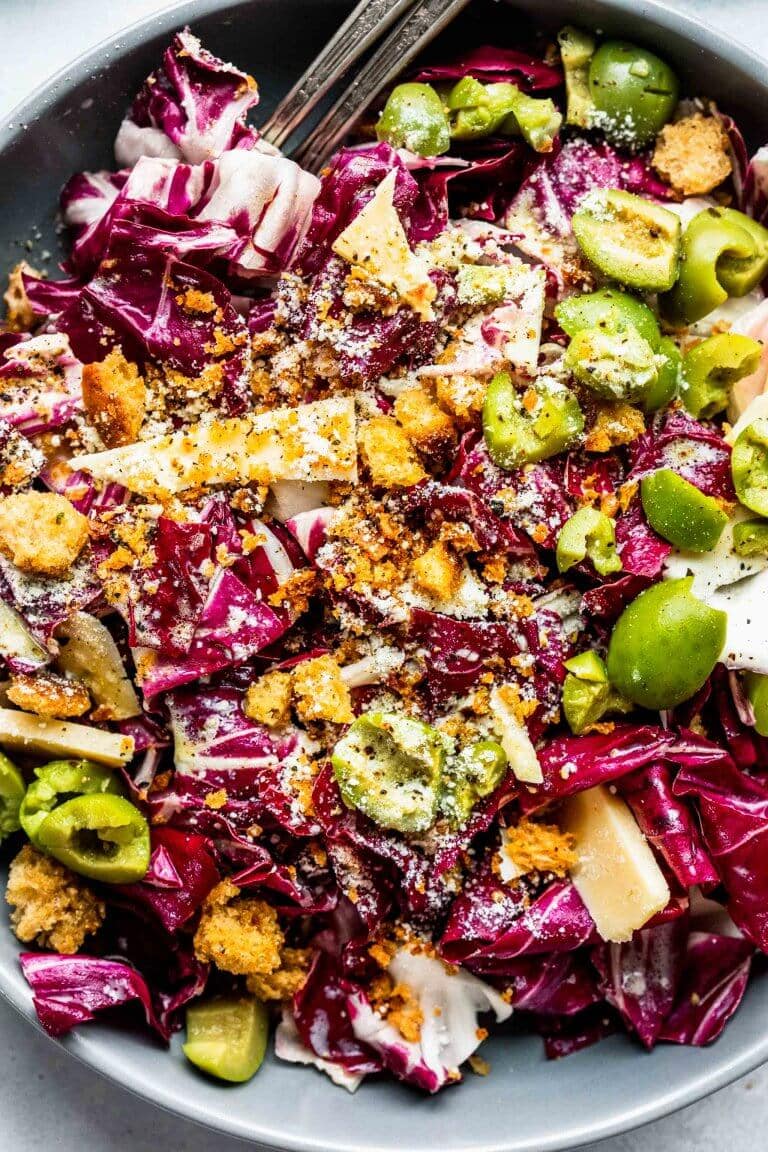 This delicious Radicchio Salad is dressed in a creamy lemon-vinaigrette and tossed with buttery calvestrano olives, tasty breadcrumbs and nutty parmesan cheese. And, a special tip ensures that your radicchio won't be bitter!
Get the RECIPE
This Arugula Salad recipe with red wine vinaigrette is my go-to green salad. The arugula has a peppery bite to it which pairs wonderfully with the acid in the vinaigrette. It's the perfect salad for pairing with rich dishes.
Get the RECIPE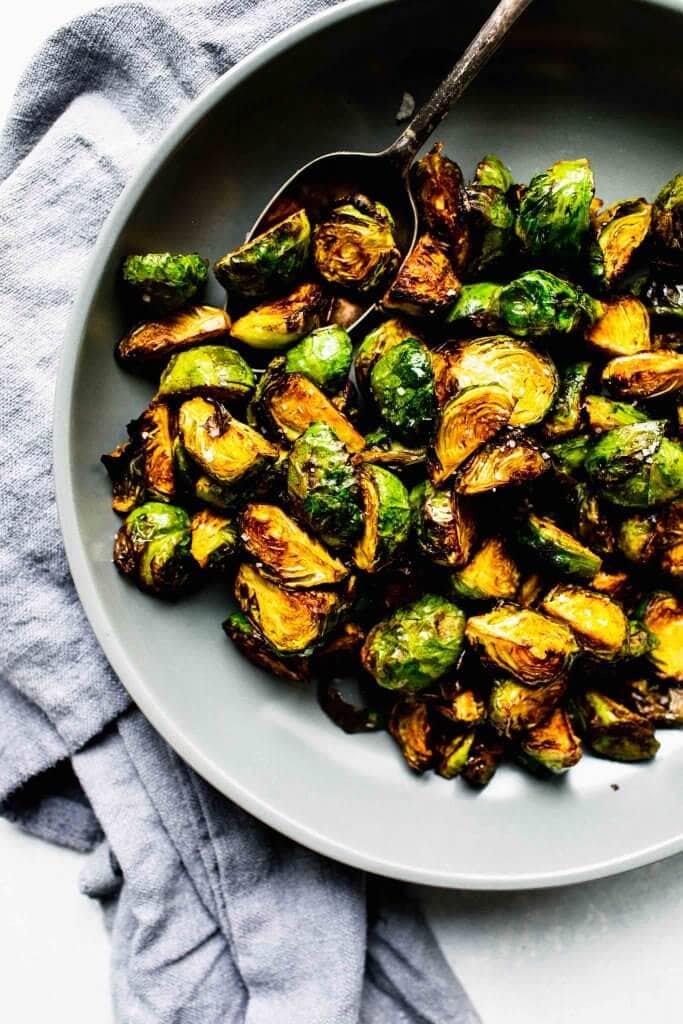 Air Fryer Brussel Sprouts cook up crispy and delicious with minimal oil with the help of your air fryer! Dressed simply with balsamic vinegar and a sprinkle of salt. You'll love these!
Get the RECIPE
Say bye bye to basic potato salad. This Grilled Potato Salad combines smoky grilled potatoes with a delicious tangy mustard dressing that's loaded with fresh herbs and salty capers. It's delicious! 
Get the RECIPE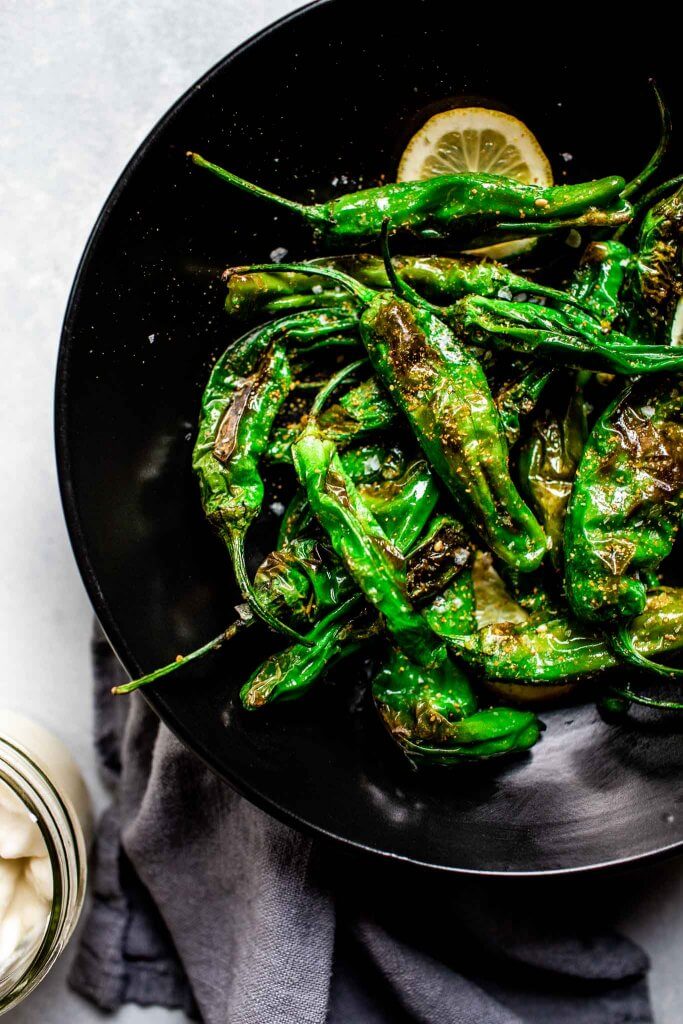 These Blistered Shishito Peppers are the perfect finger food. They're so easy to make too. Lightly seasoned and slightly smoky, you'll find that most are mild… one out of every ten might surprise you. 

Get the RECIPE
Apple Slaw with Celery Root is an exciting twist on your basic coleslaw. Crisp apples and celery root combine with jalapeno, cilantro & pickled onions. It's sure to be a stand out side dish!
Get the RECIPE
This grilled broccolini is topped with a tangy apple cider vinaigrette and marcona almonds for a delicious crunch. It's a perfect side dish for autumnal menus or Thanksgiving. 
Get the RECIPE
Instant Pot Artichokes are quick and easy to make with the help of your electric pressure cooker. Plus, this recipe gives them SO much flavor!
Get the RECIPE
This Shaved Fennel and Celery Salad comes together quickly and has such a delicious light lemon vinaigrette and wonderful crunch. It's the perfect side salad for rich and hearty dishes like pasta or braised short ribs.  
Get the RECIPE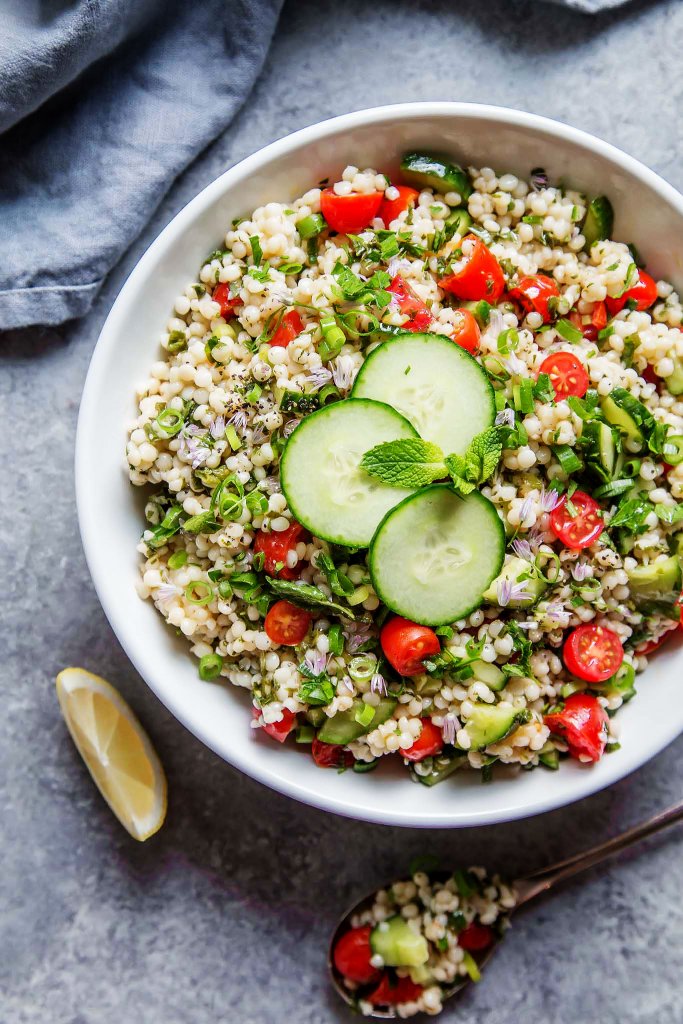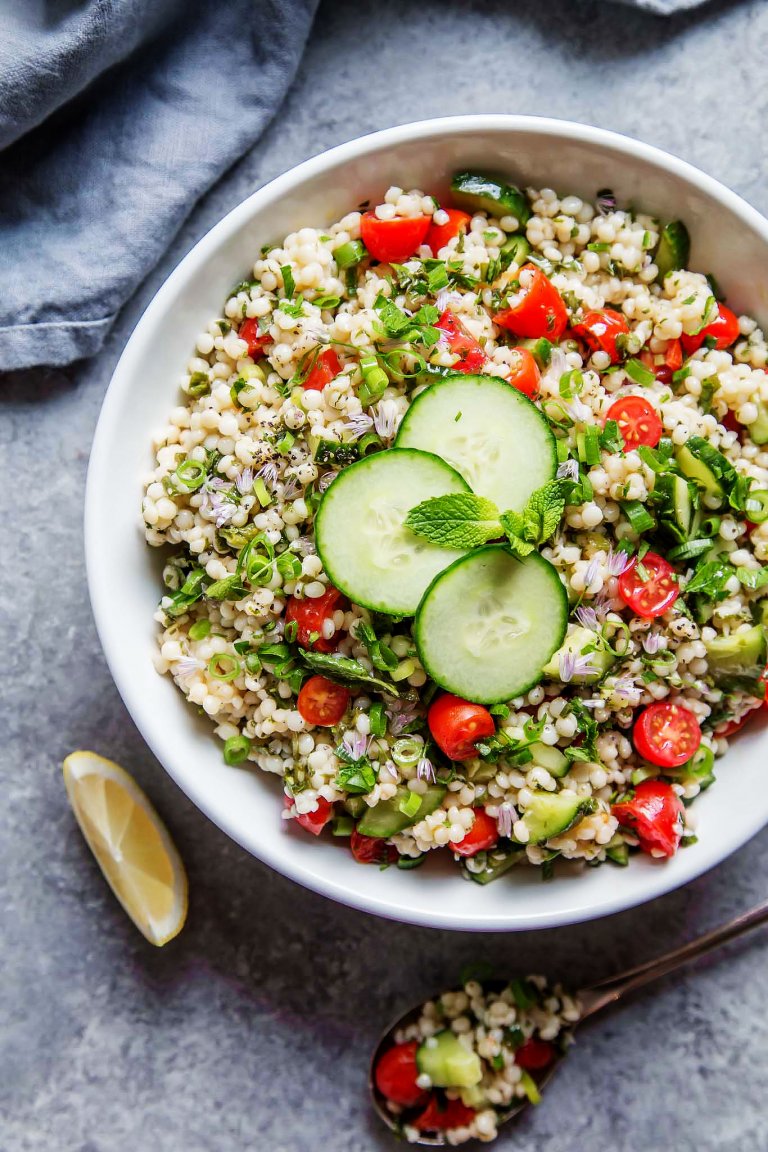 This Israeli Couscous Tabbouleh Salad combines pearl couscous with tomatoes, cucumbers, fresh herbs and a light citrus dressing.
Get the RECIPE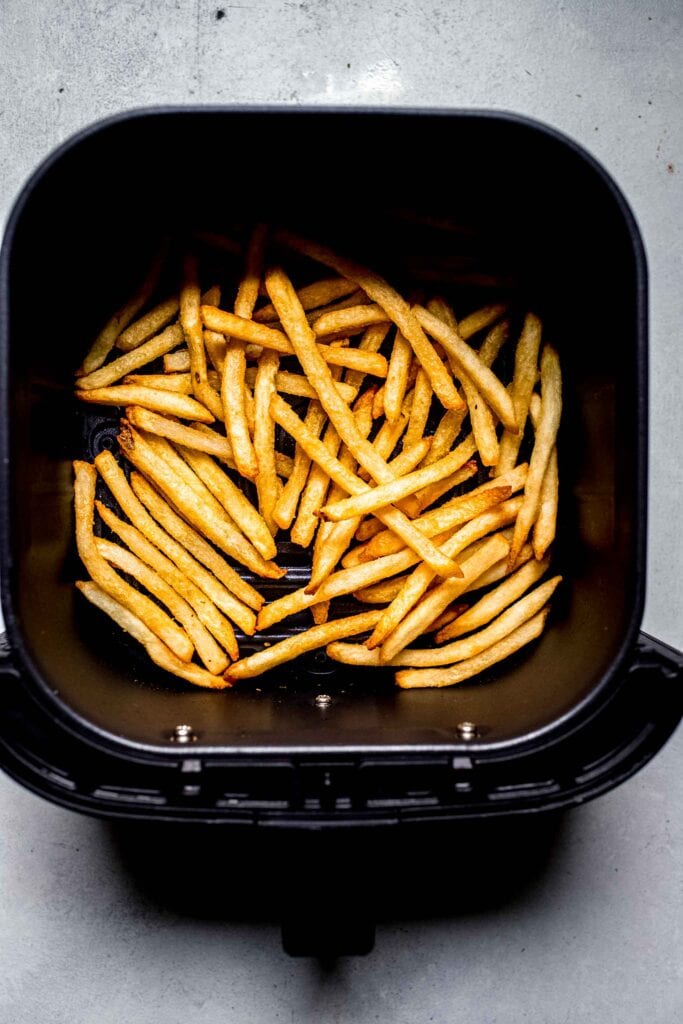 These Air Fryer Frozen Fries come out exactly like your favorite fast food fries! They're crispy, golden on the outside and perfectly fluffy inside. SO much better than deep frying or baking! Plus, you can cook different types of fries – waffle fries, shoestring, steak fries and more!
Get the RECIPE
How to Make Ahead and Store
Many of these fish side dish recipes can be made ahead of time and stored in the refrigerator for a few days or even in the freezer. Simply check the individual recipes for full storing instructions and details on how to make ahead. 
Favorite Fish Dishes
Did you Make Any of These Fish Side Dishes?
Please leave a comment and rating below, if you loved this round up of sides for fish. Also, be sure to snap a picture of your finished dish and share it with me on Instagram using the hashtag #platingsandpairings and tagging me @platingsandpairings.
HUNGRY FOR MORE? For more great Platings & Pairings recipes, be sure to follow me on Pinterest, TikTok, Facebook, YouTube and Twitter.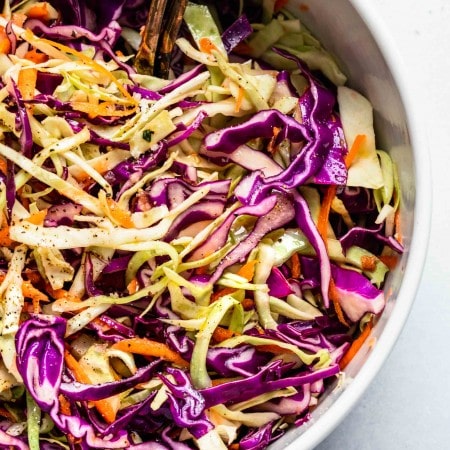 ½

head

red cabbage

(shredded)

½

head

green cabbage

(shredded)

1

carrot

(grated)

¼

cup

apple cider vinegar

1

Tablespoon

honey

1

Tablespoon

olive oil

1

teaspoon

kosher salt

Salt and pepper

(to taste)
Add cabbage and carrot to a large bowl.

Whisk together apple cider vinegar, honey, olive oil and salt. Pour over cabbage mixture.

Toss well to combine. Season with additional salt and pepper, to taste.
In place of the cabbage and carrot, you can use a 16-ounce package of shredded cabbage mix. 
Calories: 39kcal | Carbohydrates: 7g | Protein: 1g | Fat: 1g | Saturated Fat: 1g | Sodium: 214mg | Potassium: 169mg | Fiber: 2g | Sugar: 4g | Vitamin A: 1276IU | Vitamin C: 34mg | Calcium: 33mg | Iron: 1mg